If like me you love swimming in the sea, but swimming in the ocean scares you, you will love natural formations like the fairy pools in Noosa Heads. Hidden along the coast of Noosa National Park you will find natural rock pools, where you can peacefully swim in the sea without being swept out by ocean waves.
This post is a complete guide to the fairy pools of Noosa Heads, covering everything you need to know from how to find Noosa's fairy pools, what to bring with you, the best time to visit and much more. If you're planning a trip to discover the fairy pools of Noosa National Park, this is the guide for you.
What are the fairy pools of Noosa?
A fairy pool is a natural tidal rock pool, with a cute and fancy name. The coast of Noosa National Park is characterised by a rocky shoreline.
Over millions of years part of these basalt rocks have been eroded by the sea and wind to form big pool-shaped cavities. Ocean waves regularly wash into the rock pools, creating a natural seawater pool in which you can swim.
They're a pretty popular spot in Noosa Heads since it means you can swim in the ocean without being swept away by the waves, and let's not forget that they're also really pretty.
How to find Noosa's fairy pools
So how do you actually find these magical fairy pools? They are located along the coast of Noosa National Park, a 45-minute walk from the Main Beach of Noosa Heads.
Here is a map of the walking route and step-by-step guide on how to find Noosa's fairy pools.
Step 1: Find the start of the Coastal Track from the Main Beach
From the Main Beach of Noosa Heads go to the right until you reach the end of the beach and the start of the road. Here you will see a wooden boardwalk that marks the start of the Coastal Track.
Make sure to stick to the boardwalk on the right. Rather counter intuitively for a coastal track there is another trail on the left that stays closer to the sea, but this one ends at a beach, and you would have to backtrack to get on the Coastal Track.
Step 2: Follow the boardwalk to the Noosa National Park car park
Walk along the boardwalk while always keeping the sea on your left. You will walk past a beach called Little Cove, where you will see people surfing and chilling on the beach.
After about 15 minutes walk you will reach the Noosa National Park car park. If you're coming from outside Noosa and you're driving there you can park directly here and skip the Main Beach (but I recommend popping into town after your trip to the fairy pools, Noosa Heads is a really lovely town)!
Step 3: Follow the Coastal Track towards Hell's Gate
The wooden boardwalk ends at Noosa National car park and the track becomes a big more wild. It's mostly made of rocks, dirt and sand but generally speaking it's always quite well paved and easy to walk on.
You will walk past two viewpoints (Boiling Pot Lookout and Dolphin Point Lookout – we couldn't see any dolphins unfortunately) and two beaches (Tea Tree Bay and Granite Bay).
After Granite Bay you will find a smaller bay called Picnic Cove, here you will find a park bench where the track turns right around a large bend. This is where you leave the Coastal Track.
Step 4: Climb down the rocks to fairy pools
This final part is off the beaten track so you will have to climb and look around a bit to find the pools.
We found them quite easily as there were people coming an going, however if you're the first one there in the morning, generally speaking head towards the left and the sea and you'll find them.
There are two rock pools, one lower closer to the sea that requires more climbing and one higher up.
Top tips for a perfect fairy pools visit
Get there early in the morning or during a weekday
The fairy pools of Noosa Heads are becoming an increasingly popular stop for backpackers who are on an Australian road trip, and considering there are only two rock pools, they can get pretty crowded.
We were there during the day on a Friday during the Easter holidays and it wasn't too bad, there were other people there but it wasn't annoying. If you want to make sure you're alone there you will have to visit early in the morning or on a weekday.
Plan it according to the tides
Admittedly this isn't something we had planned for, but if you want to make sure you have a perfect visit at the fairy pools, you should check what the tide is going to be like.
In the morning at low tide the water in the rock pools will be very still, with minimal influence from external waves coming in. In the evening at high tide instead there will regularly be waves crashing over the rocks and washing into the pools, creating a current that will move you around in the pools.
Both are fun but in different ways, it's up to you whether you want to visit a relaxing pool or a more tumultuous natural Jacuzzi. We were there in the middle of the day when there were some waves crashing into the pools but not excessively.
Bring plenty of water and snacks
The fairy pools are a short walk away from Noosa Heads, however there aren't really any services by the rock pools themselves so make sure to bring anything you might think you'll need.
The walk from Noosa Heads isn't particularly challenging but in the Australian heat you might get thirsty and hungry, so bring plenty of water and snacks. You don't want to have leave the fairy pools early because you need to go back to buy food and water.
Go to the toilet before setting off from Noosa
As I've just said, there are no services by the fairy pools, so make sure to use a toilet in Noosa Heads before starting the coastal walk to the fairy pools.
Bring appropriate footwear with you
To comfortably explore the fair pools you'll need footwear that you can comfortably walk in but also climb over rocks with.
The terrain of the walk is very easy; all throughout, being mostly paved at the start and turning into dirt tracks towards the final sections close to the rock pools and Hell's Gate, but the ground will still be fairly flat and without major obstructions.
The only part that is somewhat tricky is when you go off the track and have to climb over the rocks to reach the pools. I was wearing flip flops because I didn't think it would be bad and I struggled a bit, and I ended up having to take off my flip flops and walk on the rocks barefoot which isn't great.
On the other hand one of my friends was wearing Timberland boots because she thought it was going to be a proper hike and she had hot feet all day. So don't be like us, be more sensible and pick more appropriate footwear.
Don't forget sunscreen!
Australian sun can be very damaging to your skin so if you're planning on being at the fairy pools all day, exposed to the sun without shade, make sure to pack high factor SPF with you.
My top Amazon picks:
More information about Noosa Heads and Noosa National Park
So you've just spent the day at the fairy pools and you're wondering whether to drive on to another town or if it's worth spending some time in Noosa Heads. If you have the possibility, I highly recommend spending some time in Noosa Heads.
I personally loved the chill surfer vibe of the town. There are plenty of shops, bars and restaurants that you can explore, and if you wan to learn to surf, lots of beaches and opportunities to do so.
Noosa Heads is also a popular starting point for tours to Fraser Island, so if you're planning on heading there next, just schedule some time in Noosa Heads around it.
There is also much more to Noosa National Park than just the fairy pools. If you have longer you can go on beautiful coastal walks around the park and to famous viewpoints like Hell's Gate.
Where to stay in Noosa Heads
If you want to spend a night in Noosa Heads (great choice!) there are plenty of options for accommodation, both close to the Main Beach and slightly further out.
I personally stayed at Nomads Noosa Backpackers and loved it. Everyone was very friendly, both staff and other backpackers, however most of the dorms are very big so if you want something a bit fancier and more quiet you can check out places like Little Cove Court or RACV Noosa Resort.
Check out the latest prices and availability in Noosa Heads
Have you been to the fairy pools of Noosa Heads? How did you find it? Let me know in the comments below! I personally had a great time at the fairy pools of Noosa Heads.
While they're becoming an increasingly popular tourist attraction it didn't feel like they were too busy just yet.
Adventuring along the Coastal Walk of Noosa National Park, climbing over rocks and swimming in the fairy pools made for a perfect day to break up our Brisbane to Cairns road trip. I highly recommend visiting Noosa Heads and the fairy pools when you're in Australia.
Enjoyed reading about the fairy pools of Noosa Heads? Pin it!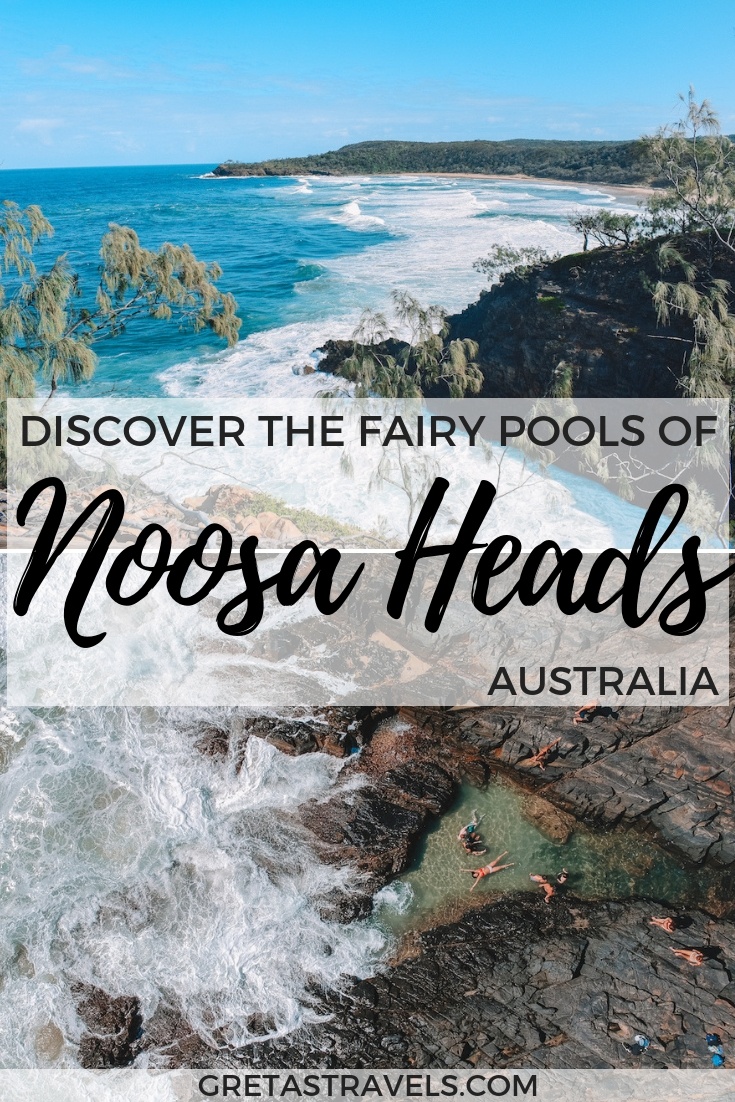 * This post contains affiliate links. Greta's Travels is a participant in the Amazon Services LLC Associates Program, an affiliate advertising program designed to provide a means for sites to earn advertising fees by advertising and linking to Amazon.com. As an Amazon Associate, I earn from qualifying purchases. Greta's Travels is also a participant with the Booking.com and GetYourGuide Affiliate Programs. All purchases or bookings you make through Greta's Travels come at no extra cost to you. *