If like me you're a Lord of the Rings fan, New Zealand is probably pretty high up on your travel bucket list. Or if you're not as big a nerd as me you might just want to visit New Zealand regardless of your movie passions.
Either way, New Zealand is a beautiful country with the most stunning natural landscapes, which I absolutely loved visiting and recommend to everyone. I spent 7 days in the South Island of New Zealand and did a self-drive road trip from Christchurch to Queenstown in a JUCY car.
In this post I've outlined our exact New Zealand 7-day itinerary, and any additional information I thought you might need to plan your own New Zealand South Island road trip. So turn on Lord of the Rings in the background, take out that New Zealand travel guide, and start planning your New Zealand itinerary!
Useful things to know for a New Zealand South Island road trip
Before we jump straight into my New Zealand South Island itinerary, I've included below some useful information to help you plan your own New Zealand road trip.
Renting a car & driving in New Zealand
Everybody says that to truly experience New Zealand you need to rent a car and do your own self-drive trip. That no organised tour or bus will give you the freedom you need to really see this beautiful country.
Having heard all this from different groups of friends, even if neither my friends nor me are the best drivers, we were committed to doing our own New Zealand road trip. We rented a car with JUCY World for a week and drove from Christchurch to Queenstown.
We were a bit concerned about the mountain roads being hard to drive on. However if you just remember to be sensible at all times; respect the speed limit, don't overtake if there's no overtaking lane and respect the traffic laws you will have no issues (might seem like obvious advice but we saw a lot of bad drivers while we were there)!
Currency
The currency in New Zealand is the New Zealand dollar (NZD). The exchange rate when we visited was pretty good, a whooping 1 GBR : 1.91 NZD. We found most things (be it food a the supermarket, a dinner out, cocktails etc) cost more or less twice of what they did back home though so it wasn't a particularly cheap trip.
Cuisine
I'm not sure what I was expecting from New Zealand cuisine but I found it a bit underwhelming. There was nothing wrong with it but most restaurants were very similar to those you would find back home in London, and we never really found anything "typical New Zealand". That said I've had some of the best burgers ever on this trip, so if you like burgers make sure to have one in New Zealand!
Weather
We visited New Zealand at the start of May, which is autumn time there. It was considerably colder than we expected and were ready for. Temperatures ranged from a high of 12°C to a low of 3°C during the day and well below 0°C at night.
When we decided to go star gazing in Lake Tekapo we had to take duvets from the hostel with us. They say there are high chances for rain in May (130mm across 17 days) but we were lucky enough to only catch it one day out of seven, and were able to do all our hikes even if not in under the sun at least in cloudy but dry weather.
If you're not sure what to pack, check out my Iceland summer packing list (different country and season but similar weather conditions) or this New Zealand winter packing list for ideas.
Some things you might need in New Zealand:
Our 7-Day Itinerary in New Zealand, South Island
This is the exact 7-day itinerary I did on my recent trip to New Zealand. As we only had a limited amount of time we decided to only visit South Island, as it seemed to have more activities and places we thought we would enjoy exploring.
This itinerary is only an indicative guide of how you could spend one week doing a road trip in the South Island of New Zealand. It's pretty packed as that's what me and my friends love doing, edit it accordingly to create your own perfect New Zealand 7-day itinerary!
Day 1: Arrive in Christchurch & hike the Sugarloaf
We flew into Christchurch from Sydney early on the first day so that we could spend the rest of that day exploring the city and surroundings. We had a lot of hikes planned for this trip so we decided to start off easy with a 1-hour loop hike for the first day.
We drove for about 20 minutes out of Christchurch and towards the Sugarloaf Scenic Reserve, a Port Hills landmark with a peak topped by a 120m television transmission tower and a popular hiking destination from Christchurch.
We drove to the coffee shop "The Sign of the Kiwi" so that we could park there and start our hike somewhere where we could ask for advice on the best trails, what the hiking trails at this time of year and other information.
At the base of the hill is a sign with the name of the hikes, a map of the trails, information such as incline, length and estimated time it will take, and brief descriptions of all the hikes.
That way even if you're like us and just rocking up to a hike with little information about it you can still figure out what to do. We decided to hike Mitchells Track, a 2.5km trail that should take around 1 hour.
It took us longer to do the hike since we had sandwiches with us and we decided to have a picnic at the peak. We also took detours every now and then to search for the best viewpoint. The trail is pretty easy; there are some steep parts but also a lot of sections that are quite flat.
The views all throughout are simply stunning, considering it was one of the easiest and shortest hikes of the trip it definitely had the best ratio of views seen to effort put in to see them (not sure that's a ratio that exists but you get what I mean).
We spent the rest of the afternoon exploring the centre of Christchurch and then went to bed early so that we would be ready for the start of our road trip the following day. We spent the night at City Centre Motel.
Check out the prices and availability at City Centre Motel.
Day 2: Road trip to Lake Tekapo
On the second day we started our actual New Zealand self-drive road trip. We set off at 8AM so that we could take our time with the 3-hour drive from Christchurch to Lake Tekapo. Most of this drive is on the highway so it's pretty smooth and easy.
As we approached Lake Tekapo the drive became more scenic and even if it wasn't highway anymore and with more bends it was still an easy drive. As soon as we drove through the mountains and saw the first glimpses of the turquoise water of Lake Tekapo we fell in love.
We did a few stops along the way and arrived in Lake Tekapo around noon. We drove to our hostel to check in and ask about the hikes in the area. In case you're wondering, yes we did this a lot.
We researched all the hikes online beforehand but every time we got to a destination we always asked a local information desk or our hostel reception updates about the hikes, as we were concerned they might be closed because of bad weather or snow.
We stayed at Lakefront Lodge Backpackers right on the shore of Lake Tekapo. From there we drove for 3 minutes to Tekapo Springs, where we parked the car and set off on our hike of Mt John.
Check prices and availability at Lakefront Lodge Backpackers.
There are two hikes that you can do of Mt John; Mt John Summit Circuit Track and Mt John via lakeshore. Both hikes start at the same spot, with a steep rise through the New Zealand forest. Once you get past the tree line you will find yourself walking around open tussock hill slopes.
At the top of Mt John you will find the Mt John Observatory and a café where you can relax for a bit and grab some food and drinks to freshen up after the steep hike. From up here will have a fantastic view over the surrounding mountains and lakes, which will make the hike up well worth it!
To get back to Tekapo Springs you can either do the same trail you did to come up (this is the Mt John Summit Circuit Track) or walk on through the open hills and all along the lake (as you may have guessed, this is Mt John via lakeshore).
We chose the second option, combined to the section we had already walked to reach the peak it then became a 8-km hike that took us around 3 hours. The walk back along the lakeshore is easier, since it's longer it's also less steep which makes it easier on the knees. All along the walk there are stunning views over Lake Tekapo which make the hike easier.
We finished the hike back at Tekapo Springs and went straight to our hostel to chill for a bit before explore the Tekapo township. Just to give you a heads up now, there isn't much to it. It's a lovely town with some very scenic views (like the Church of the Good Shepherd) but if you're looking for a wild nightlife, this probably isn't the place.
It is however recognised as one of the best places in the world for stargazing. After dinner we drove back to the Mt John Observatory, in the hope of finding the best stargazing spot. You can't drive yourself up to the observatory, however if you find anywhere around there to park it will be dark enough to see the Milky Way and a stunning night sky.
Day 3: Drive to Mount Cook National Park & hike the Hooker Valley Track
We started day three slightly later since our next destination was only one hour drive away from Lake Tekapo; the famous Mount Cook National Park.
We drove past Lake Pukaki, another stunning lake with turquoise water, and reached Aoraki Mount Cook Village by 10AM. From the town centre it's a short 10-minute drive to the White Horse Hill Campground, the starting point of Hooker Valley Track.
Hooker Valley Track is a 10km return hike that takes you through Hooker Valley and ends at Hooker Lake, a lake where you can see icebergs floating around. The hike is pretty flat for all the 10km, it's a long walk but not particularly challenging.
The valley is surrounded by snow-capped mountains, which add to the beauty and scenery of the hike. We were moderately unlucky with the weather since it was very cloudy and the clouds were extremely low.
I saw moderately unlucky since it didn't rain which is good (lucky) but the low clouds meant we didn't actually have a view of the surrounding mountains (unlucky).
We didn't even realise what we were missing on until the clouds lifted and we saw just how stunning the surrounding landscape was.
If we thought Lake Tekapo was a small town with not much to do, we were not ready for Aoraki Mount Cook Village. After our hike we asked our hostel recommendations for dinner and they told us there are only two restaurants in town, a higher end one inside the Hermitage Hotel and a cheaper pub.
We went for the pub, which had great burgers and pizzas. Don't get me wrong, I'm a city girl born and raised so I love occasionally disconnecting from the chaos of big cities. We had a chill evening in the common room of our hostel (the YHA Mount Cook) watching Lord of the Rings, the perfect evening for a New Zealand road trip.
Check prices and availability at YHA Mount Cook.
Day 4: Hike in Wanaka & drive on to Queenstown
Day 4 was the most intense of our New Zealand road trip. We had ahead of us a 4-hour drive to Queenstown, broken up by a 5-hour hike in Wanaka.
We set off at 7AM so that we could do the first 3-hour leg of our drive to Wanaka and be ready to hike by 10:30AM. After a quick stop at the information centre to check the conditions of the hike, we decided to tackle Roy's Peak, a 16km return hike with a 1.2km incline.
I'm not a professional hiker but I have always done a lot of sports growing up and I consider myself a moderately fit person. And yet I found Roy's Peak incredibly tough.
We knew there was a 1.2km incline before setting off but I guess we didn't realise just how steep that was. We thought the way up would be steep at parts and flat in others, but we were wrong.
There is no section of the hiking trail at any point in the 8km that is flat. It is all at an incline. By the time you reach the peak you will be pretty tired and your quads will start to burn, but the view over the surrounding mountain peaks is well worth the hike.
We were there on a cloudy day and were actually unable to see the view over Wanaka and the surrounding lakes (which is meant to be the best part, ah well) but even being above the clouds was very beautiful.
I found the hike back down actually harder than the hike up. While it's less tiring and won't get you panting it will be tough on the knees.
The clouds had also partially lifted while we were hiking up which meant we had a bit of a view on the way down. After this knackering hike we drove on for another hour and a half to Queenstown, where we checked into a private room at Nomads Queenstown Backpackers.
Check the latest prices and availabilities at Nomads Queenstown Backpackers.
Day 5: Adventure activities in Queenstown
Queenstown is known as the adventure capital of the world. On the fifth day of our trip we decided to take a step back from driving and spend some time adventuring in Queenstown. My friends and I actually separated for this day and all tried out different activities.
Laura went on an all-day climbing session and Ramis decided to both sky-dive and bungee jump on the same day (when you're in the adventure capital of the world for only 3 days, you have to pack them with activities)! What did I do? I went to a famous chocolate store.
Queenstown & New Zealand guides worth checking out:
Just kidding, I also did a short hike to a viewpoint in Queenstown. However unlike my friends who work full time and for whom this was a short trip to jam pack with activities, I had been on the road for three months by the time day 5 of the New Zealand road trip came around (first Singapore, then India, then Australia and now New Zealand).
I know it's a lame excuse but working as a full-time travel blogger I sometimes need days to relax and work. That's not to say I didn't do anything, I had a great time hiking by myself, I even made new friends along the way, and exploring the centre of Queenstown.
There is a gondola in Queenstown called the Skyline that will take you to the top of Bob's Peak, where you can enjoy a beautiful view over Queenstown, the lake and surrounding mountains.
The gondola is pretty expensive; it's 50 NZD for a return trip or 25 NZD one way. When I got to the base of the gondola I realised there was a sign showing the route for the hiking trail that would take you to the top of the gondola.
So despite being knackered from the previous days hikes I decided to hike up a hill for 30 minutes and save myself 50 NZD. The hike is called the Tiki Trail and there are signs on the way up to indicate the way. It's a short hike, only one-hour return, but it's pretty steep on the way up.
It was a sunny day when I set off however on the way up the clouds started rolling in and by the time we made it to the top there wasn't actually a view. The whole peak was shrouded in clouds, I couldn't even see the gondola right beneath me. I was glad I hadn't paid 50 NZD just to see some clouds!
After the hike I spent some time wandering around the shops in the centre of Queenstown. Whether you just want to spend a day chilling in the city, doing the hikes around Queenstown, or trying some of the adventurous activities here, I would definitely schedule a whole day in your New Zealand road trip itinerary just for Queenstown.
Day 6: Milford Sound cruise
Close to Queenstown is Milford Sound; a fjord that has been acclaimed as New Zealand's most famous travel destination and the 8th wonder of the natural world. With a premise like that, we couldn't miss it!
We decided to do a tour to Milford Sound even if we had our own car and could have driven there since it would have been a lot of driving in one day (4 hours each way from Queenstown). The roads are also very winding and tight, it's a hard drive if you're not a good driver.
We decided to do a tour so that we could sit back and enjoy the stunning views instead of having to focus on driving and making sure we were on the right road. We booked our tour through the hostel and actually ended up continuing our JUCY adventures with a JUCY Cruise.
Once we arrived in Milford Sound we embarked on a two hour cruise of the fjord. Despite being on the other side of the world, it reminded me a lot of my Norwegian fjords cruise. The towering cliffs, huge waterfalls and lush green vegetation are a true natural wonder.
There are coffee shops on the boat so that you can buy lunch if you didn't bring one with you. We were a bit unlucky in that it was a rainy day and the low clouds covered the peaks of the mountains, however I feel like they also added to the mood of the location.
Day 7: Last hike & fly out from Queenstown
On the last day our flight out of Queenstown was at 9PM, which gave us another full day in Queenstown. Since we hadn't actually been able to get a view when we hiked the Tiki Trail on Bob's Peak, we decided to give Queenstown hikes another shot.
We checked out of Nomads Queenstown early so that we would have plenty of time to do the hike and without having to rush to the airport. We did the Queenstown Hill hike, a trail that takes you to a different viewpoint over Queenstown.
The Queenstown Hill hike is a return trail that can take between 1.5 to 3 hours, depending on which route you take.
At one point the trail splits up and branches off into a shorter but steeper route, and a longer but more level one. The total length of the trail is between 1.7lm and 2.5km depending on which routes you take.
We personally did the longer but more level one on the way up and the steeper but shorter on the way down. We wanted to be able to see both trails and we figured it was the best way to do it that wouldn't exhaust us too much.
There is a first viewpoint where the trails meet again at a metal sculpture called the "Basket of Dreams". From here you can keep hiking to a more elevated viewpoint, which will give you an epic 360° view over both Queenstown and the surrounding valleys and mountains.
The view over Queenstown isn't quite as good as it's partly hidden by the hill that you just hiked up, however the views on the other side over the mountains are simply stunning. I think even if we had been able to see the view from Bob's Peak, this view would have still been better thanks to the variety and 360° angle.
We managed to get back to Queenstown around 12 and we decided to try Fergburger. Fergburger is a burger place in Queenstown, which has a reputation for being the best burger in the world. With a premise like that, we couldn't leave New Zealand without trying it!
Only issue is that queues and waiting time usually start at 30 minutes and can go up to a couple hours. We were not willing to wait that long however we were lucky that there was no queue after our hike so we managed to try these famous burgers and fuel up after all the walking.
In the afternoon we paid a quick trip to Arrowtown, a small town near Queenstown that we had been recommended. It was very cute but to be entirely honest, there wasn't much going on. From there we drove straight to the airport to drop off our JUCY World car and get ready for our flight.
I hope my New Zealand 7-day itinerary was useful in giving you an idea of how you could spend one week in New Zealand and do your own South Island road trip. Have you been to New Zealand before? How did you find it? Let me know in the comments below!
I personally loved the nature and stunning views in New Zealand, it's definitely a country I want to visit again one day. Next time I hope I get to visit also the North Island of New Zealand. If you're looking for more New Zealand inspiration check out this New Zealand ultimate road trip guide.
Enjoyed reading my New Zealand South Island road trip 7-day itinerary? Pin it!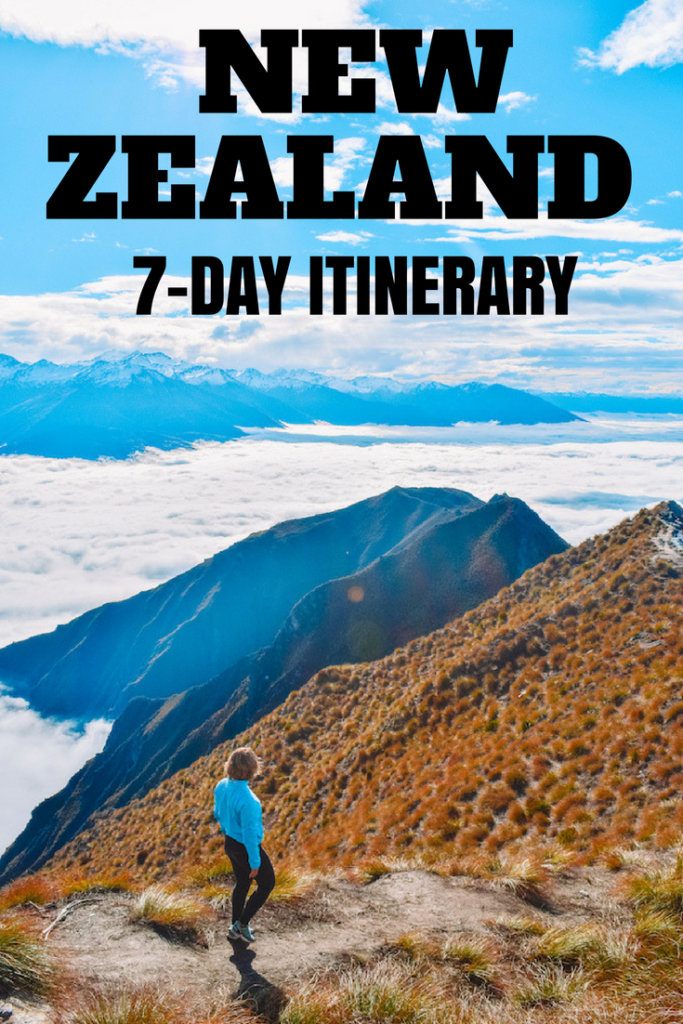 * This post contains affiliate links. Greta's Travels is a participant in the Amazon Services LLC Associates Program, an affiliate advertising program designed to provide a means for sites to earn advertising fees by advertising and linking to Amazon.com. As an Amazon Associate, I earn from qualifying purchases. Greta's Travels is also a participant with the Booking.com Affiliate Program. All purchases or bookings you make through Greta's Travels come at no extra cost to you. *