If you're a fan or snorkeling or scuba diving you will love Thailand. Thailand is one of the most popular destinations for lovers of the marine world, with plenty of opportunities all around the country to try both snorkeling and scuba diving. I was only in Thailand for 10 days and as much I would have liked to, I wasn't able to visit all the best scuba diving and snorkeling spots in Thailand. So I teamed up with some other awesome travel bloggers to bring you a round up of all the most beautiful places in Thailand where you can snorkel and scuba dive. One thing to note is that most of these locations offer both scuba diving and snorkelling, I divided them for this guide since we have only experienced only one or the other, however just because Phi Phi Islands is under "best scuba diving in Thailand" it doesn't mean it's not great for snorkelling too.
Book your Thailand excursions here!
Best places to snorkel in Thailand
Similan Islands
The Similan Islands are a cluster of islands just off the coast of Southern Thailand. We visited them on a day trip from Karon Beach in Phuket, for approximately 800 THB. This included hotel pick up and transfer to Pakarang Beach, from which we got a speedboat for 70 minutes that took us to the first stop of our Similan islands tour. You can also do an overnight stay in the Similan islands on boats or staying at Pakarang Beach, if I were to go back I would definitely do that over a day trip. The trip from Karon Beach and then back took us hours, especially in the evening traffic, and we didn't end up getting back to our hotel till after midnight.
Book your snorkelling trip to the Similan Islands here! 
The tours include snorkeling gear, lunch and will take you to four different islands. Despite being there on a cloudy day the water here was amongst the clearest I have ever seen. The islands are also part of a national park, which contributes to them being such a beautiful destination for snorkeling and scuba diving. The wildlife protection in place enables tourist to get really close to the fish while snorkeling, as they are not scared of humans. While snorkeling in the Similan Islands we were also lucky enough to see a turtle! Other than my experience swimming with turtles in Bali, the Similan Islands are one of the few places where I was able to snorkel with turtles.
Koh Wai
If you're looking for a snorkel spot off the beaten track Claudia of My Adventures Across The World has just the place for you! "As far as snorkeling goes, Koh Wai is one of the best places in Thailand. At a short boat ride from Koh Chang (the second biggest island in Thailand), Koh Wai could not be more different. The lack of electricity (save for generators) and roads (save for a walking trail) around the island means that it is hardly developed. This implies that hardly anybody lives there, and the large crowds of tourists that can be seen on other islands in Thailand stay away. There's just a few bungalows for rent, and a couple of simple local restaurants. The consequence is that the island is virtually pristine, with incredibly beautiful beaches and clear clean waters, which are perfect for snorkeling and admiring the stunning marine life."
Check out the latest prices and accommodation in Koh Chang & surroundings
Koh Lanta
Koh Lanta, an island in the Krabi province is a 3-hour ferry away from Phuket, which puts it off the mainstream tourist radar. Here we did a snorkeling and island hopping tour with a long tail boat. The tour cost us approximately 700 THB and included lunch, hotel pickup and drop-off, and lunch. The tour took us to a number of different islands and beaches, where we could snorkel with fish and explore the caves on the side of the cliffs.
Book your Koh Lanta snorkelling trip here!
At every stop our tour guides would give us snorkeling gear (if you want to bring your own gear, check out this guide to choosing the best snorkelling gear) and start throwing pieces of bread in the water, the fish would come up all at once and you could swim around them without them being scared. We were a bit unlucky with the weather as we had to sail through a tropical storm in our long tail boat on our way back, which let me tell you, it's a pretty scary boat to sail in a storm. We got back all in one piece though so don't worry, visiting Thailand in rainy season isn't that bad!
Check the latest prices and availability for accommodation in Koh Lanta
Surin Islands
The Surin Islands are still off the main tourist radar in Thailand and one of the most beautiful islands and beaches I have ever seen. There are no hotels on the Surin Islands, if you want to stay overnight you have to either camp on the beach or stay in a live aboard dive boat. The islands are blessed with soft white sand, turquoise clear water (which makes for amazing visibility when snorkelling!) and a rich marine wildlife. If you're staying overnight at the camping you can arrange your snorkelling trip directly at the reception of the camping grounds. We paid 200 THB per person for a 2-hour snorkelling tour that took us to two different spots around the islands. If you want to do a day trip you will have to arrange it before arriving in the Surin Islands as it usually would include the transfer there too.
Book your Surin Islands snorkelling day trip here!
Best places to scuba dive in Thailand
Koh Tao
Moving on to scuba diving, Craig of No Real Plan has just the place to get you started! "Koh Tao, Thailand is world-renowned for scuba diving. It is an excellent place to learn as there are now at least 20 dive shops on the island, and with all the competition, this has driven prices down, making it a cheap place to learn or further your diving experience with other more advanced courses. As there are often so many places to choose from, you usually can just turn up without booking. While I would not say Koh Tao can compare to Indonesia or Malaysia, it still offers some great dives and the chance to see plenty of marine life.
So when is it best to visit Koh Tao? In January the dive season starts, and conditions steadily start to prove. If you want to see a whale shark, you have a better chance from March to April. In May and June the wind conditions may decide what sites you can dive but it is still a good time to go. The best visibility is from July-September, where it can get to around 30 metres. Late November/December is not an ideal time to go due to monsoon season and this degrades the visibility, and some places close down before the dive season starts again in the new year. If you're looking for other activities when on dry land, then Koh Tao has plenty of bars, cafes, nightlife, and beaches to explore. Combine this with the cheap prices for diving, and you can see why many travellers stay on Koh Tao for weeks, and even months!"
Book your snorkelling in Koh Lanta adventure here!
Phi Phi Islands
Have you seen the movie with Leonardo di Caprio called The Beach? Koh Phi Phi Lei is that beach. If that isn't a good enough reason to go there, it's also an epic spot for scuba diving and snorkeling. I actually did my first every experience scuba diving in the Phi Phi Islands. We booked a scuba diving session in Koh Phi Phi Don, the only island with a town in the Phi Phi island group. The island is entirely pedestrian, with lots of cute shops and restaurant everywhere. All along the main street there are also a number of scuba diving shops that will try to convince you to dive with them. After trying out a number of places we found out that the prices are all the same, as there is an agreement amongst the diving centres. It's not one of those activities that you can haggle, so when you're deciding what centre to dive with, just go for the one that gives you the best vibe or is closest to your hotel.
Check out the latest prices and accommodation in the Phi Phi Islands
It was the first time ever I scuba dived and I was slightly terrified. We went to the dive centre early in the morning and sailed from Koh Phi Phi Don to Koh Phi Phi Lei, where we got ready to scuba dive. The instructors were very knowledgeable and talked me through all the security information and practice exercises in shallow water before going ahead with the dive. Once you overcome the initial fear, it's a really great experience. I actually found being completely immersed in water very relaxing. Being able to breathe under water was a dream of mine as a kid, and scuba diving is as close to it as you can get. Floating around looking at the corals and fish, with just the sound of water and bubbles coming from the tanks around you can be very soothing.
Book your Phi Phi Islands day trip here!
Sail Rock
For those looking to step up their diving experiences, check out the suggestion by Oksana & Max from Drink Tea & Travel: "Located between the islands of Koh Tao and Koh Phangan, Sail Rock offers one of the premier diving experiences in the Gulf of Thailand. Dive sites at Sail Rock are dotted around a pinnacle which rises about 15m above water and extends 40m deep offering a haven of marine life for divers of all levels. I dove at Sail Rock many years back, shortly after getting my Open Water Certification in 2012 and I still remember this dive site as being one of the most vibrant diving experiences.
I remember seeing huge schools of chevron barracuda, trevally, giant groupers, along with big schools of mackerel and tuna. Sail Rock is also one of the best spots in Thailand to spot whale sharks, and while I wasn't lucky on my dive, I heard many fellow divers share their amazing whale shark encounter stories. Whale shark season runs from March to May and again from October to December. Sail Rock is easily accessible by boat from the islands of Koh Phangan and Koh Tao and almost every dive operator on these islands offers a full day trip to Sail Rock on a daily basis. For more of our diving adventures from around the world, head to our Diving Archives on the blog."
Have you been snorkeling or scuba diving in Thailand? How did you find it? Let me know in the comments below! If there are other places in Thailand that should feature in this list let me know in the comments, I'd be happy to add them. I'm a big fan of all kinds of water sports, especially snorkeling so Thailand was a perfect trip for me. It was also my first time scuba diving and it was very enjoyable. Hope you find this guide to best snorkeling and scuba diving places in Thailand useful in planning your trip! If you're looking for more Thailand inspiration, check out this guide to the best Thai island hopping destinations, this list of the most amazing temples in Thailand or this guide to the best dive liveaboard in Thailand.
Enjoyed reading about the best scuba diving and snorkeling places in Thailand? Pin it!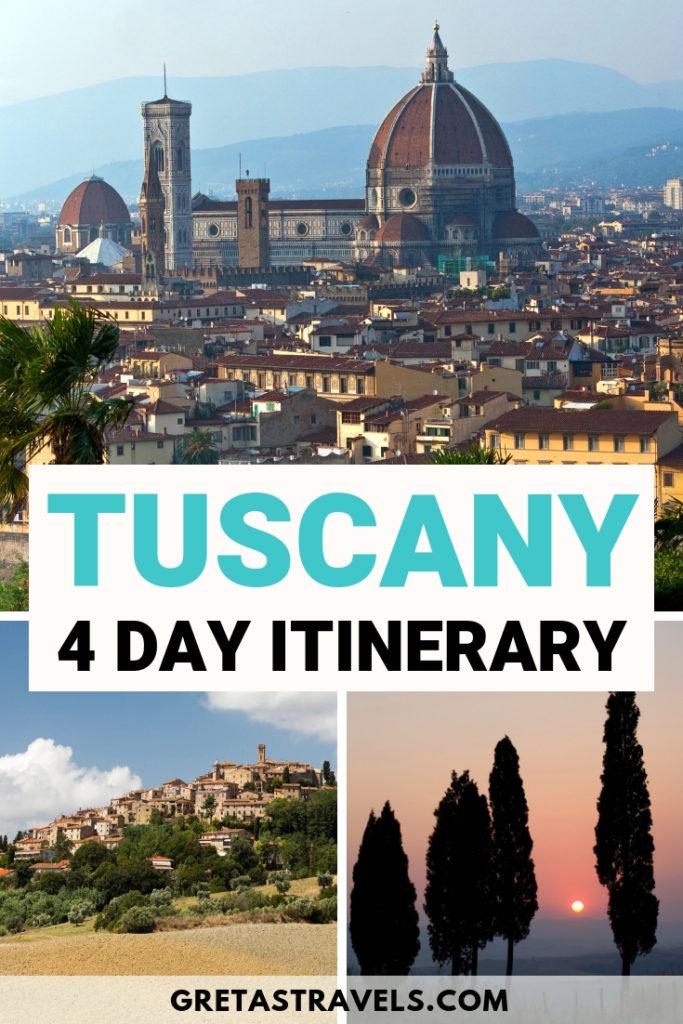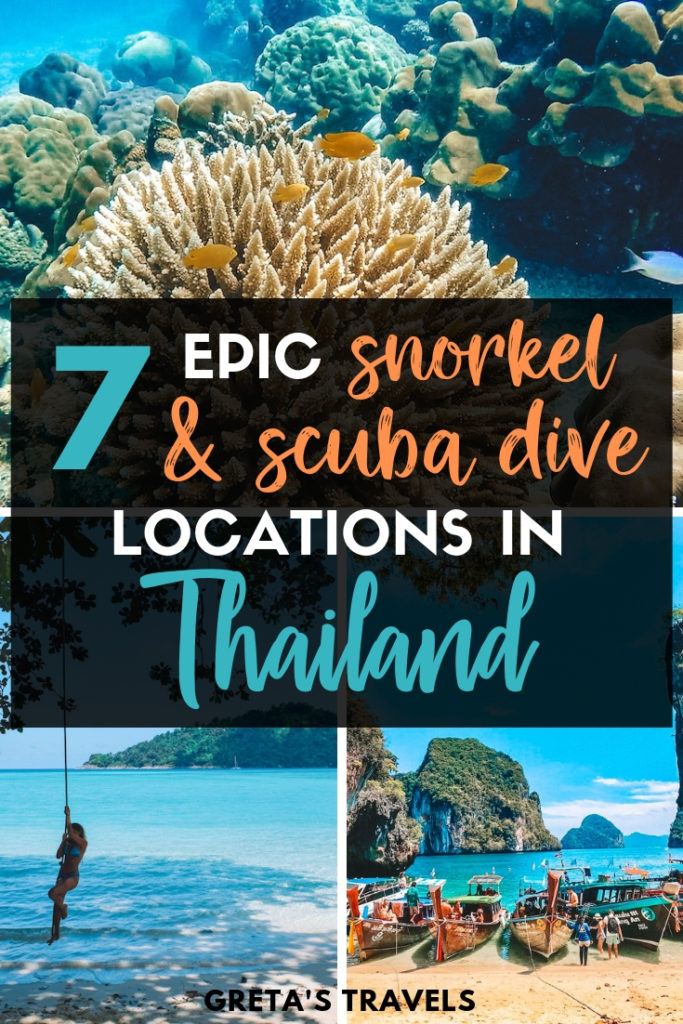 * This post contains affiliate links. Greta's Travels is a participant in the Amazon Services LLC Associates Program, an affiliate advertising program designed to provide a means for sites to earn advertising fees by advertising and linking to Amazon.com.  As an Amazon Associate, I earn from qualifying purchases. Greta's Travels is also a participant with the Booking.com and GetYourGuide Affiliate Programs. All purchases or bookings you make through Greta's Travels come at no extra cost to you. *