Italy is located in the middle of the Mediterranean Sea and is home to some of the most beautiful views and experiences (and no, I'm not just saying it just because I'm Italian). Being Italian I get asked a million times for Italy travel advice, so I decided to put together this ultimate Italy 2-week itinerary that covers all the major sights and cities.
This Italy two week itinerary starts with the history and beauty of the Eternal City, Rome, to then head over to Tuscany for a bit of exploration in Florence and Pisa, before heading to Cinque Terre for an amazing hiking experience. After that this Italy travel itinerary continues on to the city of fashion, which also happens to be my hometown, Milan, and then ends in Venice, the city of lovers.
Two weeks in Italy aren't enough to see the whole country, I've lived here for 18 years and there are regions I still haven't been to either! But it's a great start and a good enough amount of time to travel comfortably around Italy and see all the main tourist hotspots. I'll also go over useful travel information like how to get around Italy, where to stay, what to pack and more. Ready to discover how to spend 2 weeks in Italy?
Before you go, have you got everything you need for your Italy trip? Check my Italy essentials list to make sure you aren't forgetting anything!
Italy Itinerary: 14 days of exploring
Let's dive right in to our 2-week Italy itinerary!
Day 1: Arrive in Rome – Colosseum & Trevi Fountain
You should start your 2 week trip to Italy in Rome. After all it's the capital of Italy, the Eternal City and it's home to some of the worlds most ancient and beautiful history and art. You're only going to spend two days in Rome, so you'll need to hit all the major attractions on your first day.
Plan your flight strategically, so that you land in Rome in the early morning. This gives you the ability to see a decent amount of the gorgeous ancient city right on day one. The first stop on your Italy route will be the ancient Colosseum!
There are many guided tours of the Colosseum, which will provide you with the knowledge about the brave gladiators, and the bloodthirsty entertainment that took place in Rome's most famous monument.
The queue to go inside the Colosseum can get pretty huge so make sure to book online beforehand, or check out this guide to skipping the line at the Colosseum on a budget.
Click here to book your Colosseum skip the line tour!
Next, you'll want to visit Trevi Fountain. It's a beautiful monument decorated with sculptures and is a must-see when in Rome. I recommend walking there from the Colosseum, as this will take you past the famous Fori Romani. These are a series of public areas that are centred around a monument.
These were an integral part of Roman culture, and each served a different purpose in ancient times. They say if you throw a coin in the Trevi Fountain, you'll get the chance to visit Rome again.
I do it every time I go to Rome, just to be sure (and so far I've always gone back so I think it's working)! From the Trevi Fountain you can walk onwards to Piazza del Popolo and Piazza di Spagna, to see the famous Spanish steps and enjoy the view from Villa Borghese over the rooftops of Rome.
You can end your first day in Rome with a dinner out in Trastevere. Trastevere is one of my favourite areas in Rome, with lots of osterie and trattorie to choose from for your aperitivo or dinner options.
I've eaten before at Osteria Cacio & Pepe and loved it, but most restaurants there will be good. It's also a fun area to go bar hopping after dinner.
I have friends that live in Rome so I've never had to stay in a hotel there, however if I had to recommend somewhere to stay I would suggest the following accommodation options:
Click here to book your accommodation in Rome!
Day 2: Rome – Visit the Vatican
On the second day of your Italy travels, I recommend paying a visit to the famed Vatican museum. It's one of the most popular tourist attractions in Rome, and it's not hard to see why.
The best Italian trips include something ancient and something beautiful. This attraction just happens to include both!
You can take a guided tour of the Vatican Museum and the Sistine Chapel, where you can ogle at masterpieces done by the great Michael Angelo, admire the incredible architecture, as well as learn about the cities fascinating past.
Visiting the Vatican Museum will easily take up a whole half-day, if not more depending on how long you want to spend in the museum. I recommend buying your tickets online beforehand or you might end up queueing for hours just to get in.
Click here to book your Vatican Museum & Sistine Chapel skip the line tickets!
In the late afternoon and early evening you can grab dinner and drinks around Campo Dei Fiori, where all the students and young people in Rome go out in evenings.
Once it's properly dark you can also wander around the Fori Romani, where they play projections and light shows that aim to teach the public about these areas that played such an important part in Roman history.
You'll see what the Fori Romanis looked like when they were built, which is an interesting insight into the past of this wonderful city.
Day 3: Rome – Pantheon & Fori Romani
Start your third day in Italy off the right way by visiting the Pantheon! It's an ancient Roman temple that was later converted into a church, and holds great cultural significance within the Italian community.
The architecture is absolutely stunning! This circular building is beautiful both inside and out, and it is also free to visit. However, with free attractions comes queues, so I recommend you head to the Pantheon as soon as it opens to make sure you miss the crowds.
Alternatively, you can take a guided tour of the Pantheon, which allows you to skip the line, and learn the history of the Pantheon from a knowledgeable guide.
Close to the Pantheon is Gelateria 100 Palme, an ice cream shop that sells over 100 different flavours. Needless to say every time I go to Rome I try a different flavour.
Click here to book your Pantheon skip the line tour!
Day 4: Travel from Rome to Florence
On your 4th day in Italy, you'll travel from Rome to Florence. You can get to Florence either by plane or train. I personally recommend the train. The flight might be one hour, but you still have to factor in travel time to and from the airport, and you usually have to be at the airport at least one hour before.
If you get the fast train from Rome to Florence this takes you from the centre of Rome straight to the centre of Florence in roughly the same amount of time as the total flying travel time.
Once you arrive in Tuscany, you'll have plenty more activities to take part in and areas to explore. No matter how many days in Florence you have, you're sure to fill up your Italy itinerary with a multitude of awesome things to do.
Your first stop in Florence should be the grand Florence Cathedral. It's possibly the most celebrated cathedral in the world, making it one you don't want to miss!
Known as Duomo or the jewel of the city, the incredible building was built in 1436 but wasn't finished being built until the 19th century. The architecture is amazing and is an absolute must-see if you're looking for Italian vacation ideas!
Click here to book your skip the line guided tour of the Florence Cathedral!
Next, you should visit Ponte Vecchio, which is a historically significant bridge that stretches across the river Arno. The bridge is enclosed and has become famous for the many quaint shops built into its sides.
The earliest recordings of the bridge date back to 996, but nobody really knows its true origins. Take a meander along the bridge as you browse the shop windows.
You can end your first day in Florence at Piazzale Michelangelo. This is a park with a beautiful view over Florence. The huge dome of the cahedral towers over the rooftops of the houses, and makes for a stunning sunset spot. When I visited Florence with my mum we stayed at Palazzo Riblet.
This hotel is a family-run business with only a few room within a historical building, with beautiful decorated bedrooms and original Renaissance affrescos on the ceilings. It's also very conveniently located close to both the train station and centre of Florence.
Check out the latest prices and availability at Residenza d'Epoca Palazzo Riblet here!
Day 5: Florence – Gallery and Gardens
On your second day in Florence, you should aim to fill your day with as many beautiful Florence sights as possible. Galleria dell'Accademia is a wonderful gallery that houses some of the most incredible sculptures from the Renaissance period.
You can expect to see original sculptures from Michelangelo, as well as masterpieces from a multitude of other incredible artists.
After a visit to the wonderful gallery, spend the afternoon exploring the Boboli Gardens! The gardens cover an area of 45 000 square metres, making them the largest gardens in Florence. If you love being out in nature, this is the perfect Italy vacation idea.
The gardens were created in the 16th century and feature rolling lawns with a scattering of beautiful sculptures to admire. A stroll through these gardens is the perfect escape from the hustle and bustle of the city!
Day 6: Explore the Old Town of Siena
But Tuscany isn't just about Florence, so travel on to Siena on day 6. In Siena you'll discover a different side of Italy, as you explore the well preserved medieval city. There are plenty of things to see and places to explore in this wonderful town in the middle of the Tuscany region.
Start your tour of Siena at the central square, called Piazza del Campo, and learn about its great historical significance before paying a visit to the Gothic town hall. Every year they run an important horseriding competition in this square, called Palio di Siena, and it's a huge event much loved by the local people of Siena.
Visiting the Cathedral of Santa Maria Assunta is an absolute must when you're in the beautiful town. It was constructed in the 13th century, and just like many of the other wonderful buildings in Italy, it has incredible architecture that rivals the worlds best. You can take a guided tour that will take you to both the Piazza del Campo and the Siena cathedral.
Click here to book your Siena highlights guided tour!
You'll also want to visit the Siena national gallery, which is housed in a former palace, making for a wonderful destination to tour. Inside the gallery, you'll find wonderful artworks from famed artists between the 12th and 16th centuries.
If you don't feel like being indoors, spend some time wandering around the streets of Siena. Siena has one of the best preserved medieval old town centres and even just getting lost in its quaint streets will be a fun experience.
We only spent one night in Siena and we stayed at Hotel Athena, within the old town walls. The rooms were spacious and they included a tasty breakfast, but the highlight for me was by far the stunning view they had from the rooftop restaurant of the Tuscan countryside.
Click here to see the latest prices and availability at Hotel Athena
Day 7: Travel to Pisa & explore Piazza dei Miracoli
After a week in Italy, you're sure to have fallen in love with the beautiful country! However, there's still plenty more to see if you're feeling up for it! On your 7th day in Italy, I recommend you travel from Siena to the wonderful town of Pisa.
As soon as you arrive you should head straight for the famous Leaning Tower of Pisa, which was completed in 1372, and yes, it was leaning then too. It's incredible that this tower has managed to stand for hundreds of years at what seems to be a dangerous angle.
The Leaning Tower of Pisa is located in Piazza Dei Miracoli, which houses also the Baptistery and Duomo of Pisa. With one visit you can tick off all the main landmarks and attractions of Pisa.
These aren't as famous as the tower (nothing crooked or unusual about their architecture after all) but they're still important parts of Italian history.
You can do a guided tour of Piazza Dei Miracoli where they will take you into both the Leaning Tower, the Baptistery and the Duomo, so that you can learn everything about this stunning city.
Click here to book your Pisa guided tour!
You should then head to Borgo Stretto, a street that combines magnificent architecture and high-end shopping. The street is located in the heart of the city and features many branded stores, boutique shops, designer clothing labels and quaint cafes that offer the perfect break from your shopping experience.
After an incredibly scenic shopping experience, head to the Mezzo bridge that spans over the river Arno. It's a great place to take pictures during sunset and it provides beautiful views of the sleepy town.
I haven't slept in Pisa myself but here are some suggestions for places to stay:
Click here to see the latest prices and availability for accommodation in Pisa
Day 8: Pisa to Cinque Terre
After spending a wonderful night in Pisa, it's time to move on to another wonderful part of Italy! Cinque Terre is a string of ancient sea-side villages that stretch along the Italian Riviera coastline.
Travelling from Pisa to Cinque Terre by train will take you between 1 – 2 hours, and gives you the chance to enjoy spectacular views along the way.
If you want to stay in Cinque Terre I recommend staying in either Monterosso or Riomaggiore. These are the two towns at the two ends of the Sentiero Azzurro, and as such are great starting points for your hike tomorrow.
It's cheaper to stay outside Cinque Terre and travel in, but these towns really are beautiful and if you're only going to spend 2 weeks in Italy, I get it if you want to absorb more of their atmosphere. Il Nettare in Riomaggiore is a lovely hotel with wonderful sea views!
Click here to book your stay at Il Nettare in Riomaggiore!
By day 8 I imagine you'll be pretty knackered with all this intense sightseeing, so I suggest that after your train journey to Cinque Terre you take some time to relax. Riomaggiore seemingly rises out of the ocean, leaving the entire town with exquisite views!
You can spend some time exploring the town, wandering around the harbour or basking in the sun. The coastline in Cinque Terre is rugged, but there are a few beaches in Riomaggiore worth exploring. Batteria beach is one of them.
Day 9: Hike the Sentiero Azzurro in Cinque Terre
You should spend a full day in Cinque Terre hiking the Sentiero Azzurro, a wonderfully scenic hike.
The trail passes passes through Monterosso, Vernazza, Corniglia, Manarola and Riomaggiore, giving you the option to explore each town individually. The trail is 12 kilometres long, but if you're not up for the entire hike, you can do segments of it instead. You can start at either end of the trail, depending on where you're staying, and then take a train back.
All the towns are connected via train. Access to the Cinque Terre national park and the Sentiero Azzurro hike costs 8 EUR for just entry, or 15 EUR for a combined park plus hop-on hop-off ticket to the trains.
If you can handle 12km in a day, I highly recommend doing the hike. While the colourful houses of Cinque Terre are the highlight of this trail, there are stunning views all throughout.
Along the way, you'll enjoy the beautiful scenic views of the ocean and sheer rock faces that rise up out of the sea. It's a wonderful hike for photographers or Instagrammers looking for the perfect shot.
Be sure to find a great spot to watch the sunset in the evening, as the views from the trail are absolutely exquisite. Although it's easy enough to head down to a seaside restaurant and watch the beautiful views from there.
Day 10: Cinque Terre to Milan
After your hiking and seaside break it's time to take the train from Cinque Terre to Milan (my hometown)! By now you'll be very familiar with taking the train in Italy, and learning to enjoy the journey as the views are usually spectacular! The slight delays that often happen on Italian railways are just part of the journey.
The train trip should take you around 3 hours, leaving you with plenty of time in the afternoon and evening to explore the wonderful city of Milan and its nightlife. This city is one of the fashion capitals of the world, so you can be sure its a creative city with loads to explore!
The best way to start a trip to Milan is by visiting the Brera District. You can walk through the charming cobbled streets, admiring the architecture and taking in all the wonderful sights and smells.
Sit down for a meal at one of the charming cafes or restaurants before exploring some of the amazing art galleries in the area. And, if you need a little retail therapy, there's plenty of high-end shops that can provide you with just that!
Wondering where to stay in Milan? Being from Milan I've never had any need to stay in a hotel there, however there are a couple thatI've had friends stay at before that I can recommend:
Click here to see the latest prices and availability for accommodation in Milan!
Day 11: Explore Piazza del Duomo in Milan
You should spend your full day in Milan around Piazza del Duomo, this is the central square in Milan and all the main tourist attractions are located around it. It's a great meeting place amongst locals and tourists alike.
You'll see unbelievable architecture, intricate sculptures and the wonderful Duomo itself. You can start with a guided tour of the cathedral which is very informative, however the highlight of the tour for me is the rooftop tour that comes along with it.
It allows you to enjoy a view over the city while seeing the spires and architectural intricacies of the rooftop sculptures and designs. This is also a great place to take photos, especially as the sun is rising or setting in the background!
Book your fast track tour of the Milan Duomo here!
After exploring the wonderful interior of the Duomo, it's time to head outdoors and enjoy the scenery that Milan has to offer!
From Piazza del Duomo you can easily visit Galleria Vittorio Emanuele, the Teatro della Scala and Castello Sforzesco, two must-sees that are close in the area. Some of my favourite food places can also be found close to he Duomo; Luini for panzerotti (these are tiny fried calzone) and Spontini for pizza.
You can end the day by going for a stroll around the navigli. Not many people realise that Milan has canals (yes like Venice!) even if it only has two. The Naviglio Grande canal was built in 1177 and has been expanded since then. This is one of the hip areas to hang out in evenings, where you can have a lovely aperitivo or dinner out amongst locals.
Day 12: Travel from Milan to Venice
Travelling by train from Milan to Venice offers some amazing views along the way. The trip should take just over 2 hours, if you set off in the morning it will give you plenty of time to start getting your bearings around the famed city of Venice.
As soon as you get to Venice, after you drop off your bags, you should visit San Marco square, where you'll find some some of the most beautiful basilicas in Venice. If you love exploring old churches, why not take a tour of the basilica and the palace? This will give you a chance to learn a great deal about Venetian history and the culture of the city.
Click here to book your skip the line tour of St Mark's Basilica and the Doge's Palace!
On the way back from San Marco square you will come across Ponte di Rialto, which is the most famous of the 400 bridges that are scattered throughout Venice. The bridge offers magnificent views over the romantic city and it's a wonderful spot to enjoy the sunset.
I spent one night in Venice with my mum and we slept at Hotel alle Guglie. This was ideal since it was located just outside the main touristy area of Venice, but was still within short walking distance of all the attractions. The rooms were a bit small but they made up for it with an abundant breakfast, good price for value and great location.
Click here to book your stay at Hotel all Guglie!
Day 13: Explore Venice
Seeing as you only have one full day in Venice, you need to make the most of it by doing as many sightseeing activities as possible.
You can start the day with a gondola ride through the canals of Venice. These are a bit expensive but it's such a traditional Venetian experience, how could you possibly miss it?
It will give you a unique and lovely view from the waterways, since you can see the ancient buildings that seemingly rise up out of the water. I recommend starting your gondola cruise by Rialto Bridge, as it offers the best views and calmest waters.
There's no need to book beforehand, since there are plenty of gondolas all over Venice waiting to take tourists around (kind of like taxi stands in any other city) and the price is standardised. However if you want to be sure to have your experience confirmed you can also book online.
Click here to book your private gondola cruise in Venice!
After your gondola cruise you should visit the Bridge of Sighs or Ponte dei Sospiri, which is a very famous bridge in Venice. Despite popular stories, the name isn't inspired by love stories.
The bridge connects the interrogation room to the prison, and it's said that prisoners would sigh while crossing the bridge, as they took in their very last sight of Venice. Not as romantic as you'd think right? But it's still a beautiful spot in Venice and definitely worth a visit.
From here you can take a tour of the Basilica di Santa Maria Della Salute. It's a beautiful church with some of the best architecture you'll ever find in the city (which is really saying something).
You can explore it yourself, or take a guided tour if you'd like to learn a little more about its history. Just across from the Basilica there's also a killer sunset spot so you can sit here and enjoy the end of your Italy itinerary.
Day 14: Fly home from Venice or extend your trip
It's the 14th and final day of your Italy trip! The time has sadly come to fly home. However, if you manage to get a few extra days in, there is still so much more of Italy to see! After hitting all the main cities and tourist landmarks, I imagine you'll be ready to head out off the beaten track!
If you're searching for more beautiful historical cities you can easily get to Verona from Venice.
If you want to see a completely different side to Italy, it's time for a nature escape! If you're looking for beautiful beaches, I recommend you head to Sardinia for a boat trip, where you'll get the chance to explore the beautiful archipelago and see a more tropical side to my wonderful country.
I've seen a lot of beaches all over the world, but I'm yet to see beaches that are better than the ones in Sardinia.
If you're looking for a mixture of sea and culture, you can also head to Sicily. Here you can spend your afternoons with the sunshine warming your skin and your toes in the sand, before cooling off in the turquoise waters, but also exploring the food scenario and wandering around the cute towns.
If you're not a beach bum, or you're visiting Italy during the cold months, you can head to Trentino for an adventurous escape. In summer you can entertain yourself with some magnificent hikes, whilst in winter you can ski in world famous slopes.
Either way, you'll get your heart pumping and your blood flowing. I've visited Trentino loads of times as a kid in winter, but only recently in summer and I can honestly say this region is stunning at any time of year. It's the perfect place for a nature escape after 2 weeks of city sightseeing in Italy.
How to travel around Italy
Travelling within Italy is fairly easy. We have a pretty decent railway system (Trenitalia is often late but it always gets you where you need to go), lots of bus companies, internal flights that connect most major and minor cities to each other, and pretty good roads for driving.
My personal favourite way to get around, as you may have guessed from this itinerary, is by train. On long distances the Frecciarossa (the high speed train here in Italy) is often faster than flying, if you were to factor in also travel time to the airport, airport faff time and then travel time from the airport to home. Driving in Italy is also great if you have a licence and friends to share the journey with, as it gives you more flexibility than the trains.
What to pack for 2 weeks in Italy
I've written a full Italy packing list with all the essential items you might need in Italy, however if you don't want to open a new tab (I get it, it's the end of the article, you're tired and excited to start planning your trip) here's a couple absolute must haves you don't want to forget.
Final thoughts on the best Italy itinerary
If you're looking for the best way to visit Italy in 2 weeks, you've just found it! I've made sure that this Italy itinerary is jam-packed full of exciting entertainment, sightseeing opportunities and adventures you'll treasure forever. Yes it's a bit of a touristy itinerary, but after all tourist places are so for a reason, usually because they're beautiful!
Travelling to all the major cities and tourist destinations is a must during your 14 days in Italy trip. However that doesn't mean you shouldn't venture a little off the beaten track to find the hidden gems that will keep you coming back.
If quaint cities, beautiful architecture and ancient history all sound right up your ally, then Italy is the place for you to roam. I hope you find this 2-week Italy itinerary useful in planning your own trip.
From an Italian point of view, I tried my best to include all the most beautiful cities that I would want any new traveller to visit. I hope you'll fall in love with my country as much as me! If you're still looking for more Italy advice, check out my guide on the 10 things to know before travelling to Italy.
Enjoyed reading my Italy 2-week itinerary? Pin it!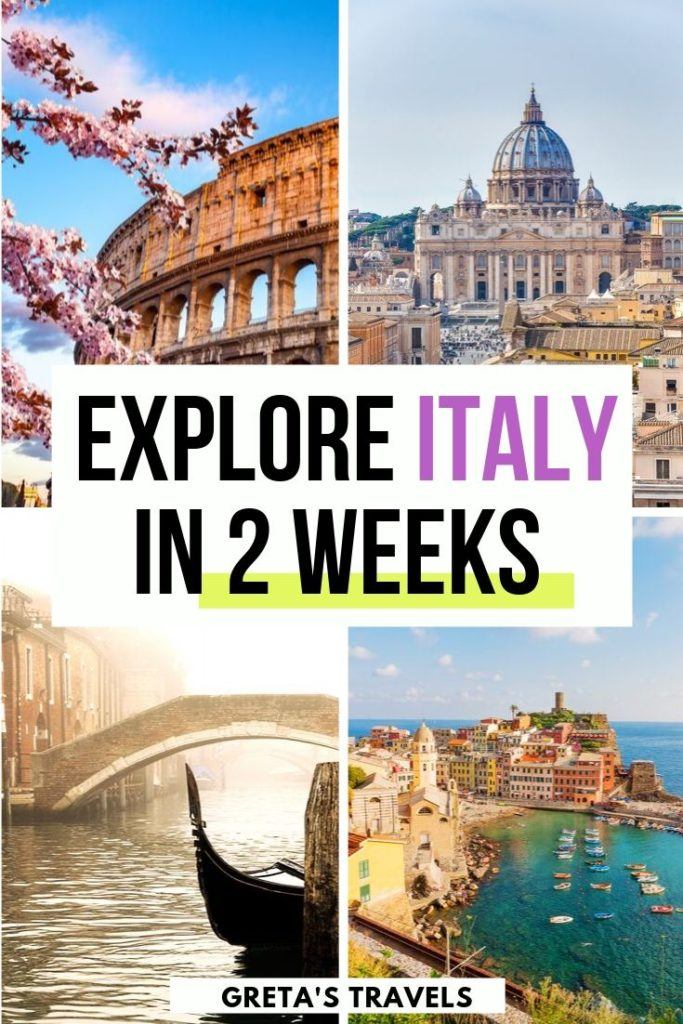 * This post contains affiliate links. Greta's Travels is a participant in the Amazon Services LLC Associates Program, an affiliate advertising program designed to provide a means for sites to earn advertising fees by advertising and linking to Amazon.com. As an Amazon Associate, I earn from qualifying purchases. Greta's Travels is also a participant with the Booking.com, Klook and GetYourGuide Affiliate Programs. All purchases or bookings you make through Greta's Travels come at no extra cost to you. *