As the largest Mediterranean island, Sicily is the perfect place to spend a week, exploring and experiencing some of the most famous parts of Italy.
The adventures, food, and people are completely unforgettable. Not to mention the absolutely beautiful landscape and views.
I'm Italian but had never been to Sicily. It had never been particularly high on my bucket list, but I'm very glad I got to spend 7 days in Sicily and be proved wrong.
In just one week I was left speechless by the natural and historical beauty of Sicily more times than I can count.
The way the name slips off the tongue, Sicily, perfectly reflects the sensuous vibe of this island. It makes you think of warm skin, fresh seafood, and refreshing cocktails.
Which is very much what you'll find when exploring Eastern Sicily.
One week in Sicily might not feel like long enough to experience this Italian island fully. But with this ultimate itinerary, your vacation in Sicily will be unforgettable.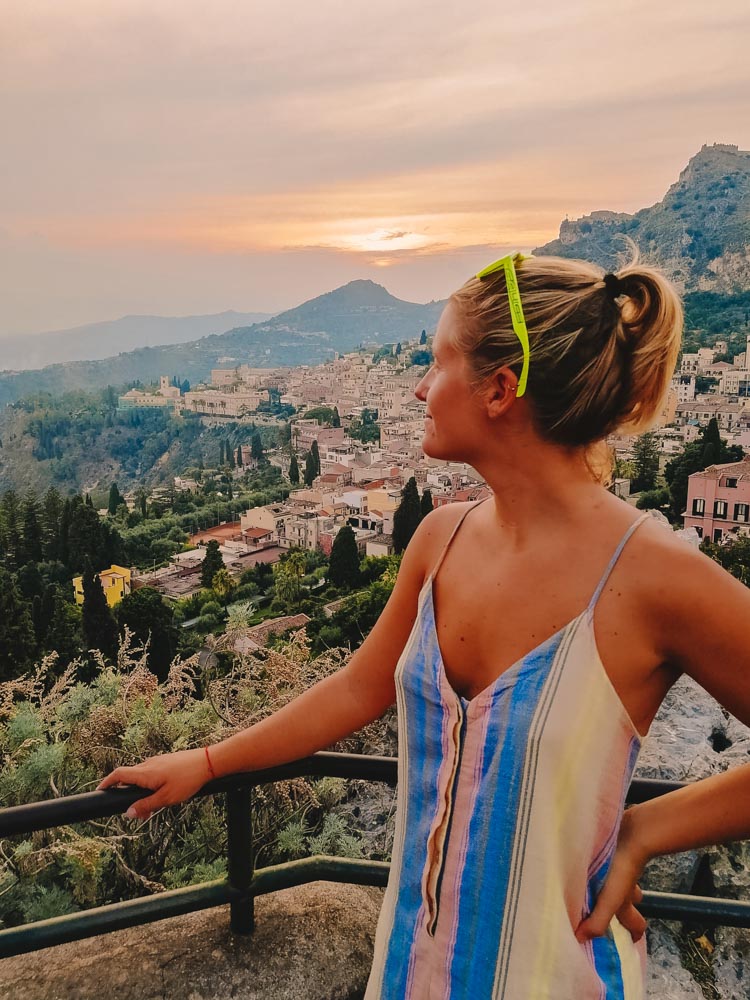 Planning a Trip to Sicily
The best way to make the most out of your trip, whether you're visiting for the first time or the hundredth, is by exploring the island by car.
After all, a road trip through one of the world's most beautiful islands should certainly be on every Italy bucket list. I always suggest Sicily for people looking for a mix of beach, nature and culture on their Italy trip.
By renting a car, you'll have full control over your movements, and you'll see as much as possible in your scheduled time.
Because most activities within a town are walking distance, there's no need to drive within the cities. You can simply park at your hotel or nearby the day's first attraction, and be off on foot.
Click here to book your rental car for Sicily!
Public transport in Italy isn't amazing, but especially so on the islands. Bus connections are few and often delayed. Having your own car will give you maximum freedom.
After all, one of the best parts of a road trip is being able to stop and explore anything that you find beautiful. So you might find yourself stopping quite regularly on this incredible Island.
This Sicily itinerary focuses on Eastern Sicily. The island is so big, one week just won't do it all justice.
If you tried to see the whole island in one week you would spend too much time driving around, and not enough time enjoying the incredible places you come across.
Do you need travel insurance for 7 days in Sicily?
After my personal experience spending two nights in a private hospital in Tenerife, and having to pay for it out of pocket (it wasn't cheap), I always recommend getting travel insurance.
You might not end up needing it, but for a small fee you can travel without worries. Personally, I suggest getting your travel insurance with Heymondo.
Heymondo offers tailor made travel insurance, providing the best value for money for your specific trip. You can also buy it once you're already abroad and have forgotten about it before flying (which, if you're anything like me, is quite likely).
Besides the usual cancellation, medical expenses, luggage coverage and general travel insurance services, Heymondo also has a 24/7 doctor chat and instant assistance through their app.
As a Greta's Travels reader, you get 5% off your Heymondo travel insurance!
Click here to get your 5% off Heymondo travel insurance!
Sicily 7-Day Travel Itinerary
In this guide I've outlined the exact Sicily itinerary we followed during our week in Sicily. It includes all of the very best options that Eastern Sicily has to offer.
So without further ado, here it is, the best Sicily itinerary for 7 days!
Day 1: Arrive in Catania
Once you've arrived in Catania, I recommend that you first rent a car. Once you're sorted with your ride, you're ready to start your grand adventure.
Depending on the time of your flight you might be able to fit many of these top Catania attractions into your first day. Alternatively, join a guided tour that explores Catania.
Click here to book a guided tour of Catania!
Explore the Piazza Del Duomo
This Piazza was built about one thousand years ago and is an impressive tribute to Italy's past. The buildings that surround the central piazza are quite a sight, and it's a central spot to do some proper exploring.
Be sure to have your camera with you to catch the tall spires glinting in the sun. Even better is a selfie stick if your cellphone has a good camera. Then you can get yourself in the photo with a striking background of the Del Duomo.
A selfie stick is always on my Italy packing list.
Visit the Roman Amphitheatre
Next, head to the Roman Amphitheatre. It's only a 10-minute walk from the Piazza, and an interesting route too.
You'll pass by another picturesque piazza with bronze lamp posts, which is how you know you're going in the right direction.
The amphitheatre is an interesting amalgamation of ruins. They are all that remains of a 300BC Roman structure that must have been an integral part of life at one point in Italian history.
The ruins give you a feeling of the incredibly long-standing culture of Sicily.
One of the things I found particularly crazy is how the ruins of this ancient amphitheatre are just lying in the middle of a busy road in the centre of Catania.
It really exemplifies the contrast between new and old that you can find in many parts of Italy.
Shop in Via Etnea
From the Roman Amphitheatre, wander down Via Etnea. This popular street has tons of shops where you can find beautiful Italian-made clothing, shoes and jewellery.
There are also plenty of cafes, restaurants and ice cream shops where you can pick up something tasty.
Eat at the Fish Market
If you have any interest in fresh seafood, your next stop should definitely be the fish market. It's a short walk from Via Etnea, and it's a great way to see what local food shopping culture has looked like for centuries.
In evenings you will find loads of tasty restaurants for dinner. We ate at Fisharia and loved their tartare burgers.
Where to stay in Catania
Both at the start and end of our trip we stayed at Ostello degli Elefanti in Catania.
This hostel has spacious dorms, tall ceilings and is bang on in the centre of Catania along Via Etnea. It also has a cool rooftop with epic views of Catania.
Click here to book your stay at Ostello degli Elefanti in Catania!
Day 2: Hike Etna Volcano & Visit Taormina
After a good night's sleep and a hearty breakfast for energy, tie up your walking shoes. This will be a day of exploring, so a decent slathering of sunscreen and a water bottle are also sure to come in handy.
Have breakfast at Spinella Bar
Before setting off from Catania, head to Spinella Bar for breakfast. It's one of the most famous bars in Catania for granita, which is a traditional Sicilian frozen sweet.
It's a bit like gelato, but better. If you want to eat it like a local get a granita with half pistachio and half almond, and a brioche bun to go with it. It might sound like an odd breakfast, but trust me when I say it's delicious!
Hike around the Etna Volcano
First, head off to Etna volcano, an active volcano with trails leading to the summit. If you're wanting to take things easy, simply hike up to the Crateri Silvestri.
These are smaller craters that you can easily reach from the road, and that you can hike around. There is a short trail that loops around the craters, allowing you to see both inside them and over the stunning view.
If you want to go higher and take full advantage of the views, you can catch a cable car or trek up on one of the numerous hiking trails.
Personally I wouldn't recommend hiking all the way since the view can be quite monotonous.
There are also guided tours that you can join if you prefer. The landscape is otherworldly, it feels like walking on the moon. Coupled with this lunar landscape is the sea in the distance, making for a fascinating view.
Click here to see prices and availability for Etna Volcano hiking tours!
Relax and swim at Isola Bella
Once you've soaked up the volcanic views, spend the afternoon in and around Taormina.
You can first head to Isola Bella beach to cool off after your Etna Volcano hike. This unique beach is surrounded by tall cliffs which run into clear blue waters.
Enjoy the sunset from the the Ancient Greek Amphitheatre of Taormina
After a refreshing swim head up to the old town of Taormina. You can either walk or take the cable car up. The cable car is quick and offers some stunning views on the coastline.
The Greek amphitheatre is a short walk from the cable car station, and located right in the centre of the Taormina Old Town. This ancient Greek theatre is a must-see on any Sicily itinerary.
For the most wow experience, make sure to head there just before sunset.
The amphitheatre in itself is quite the sight, but when paired with the golden like streaming down over the coastline and town of Taormina, it's simply breathtaking.
Before travelling to Sicily my mum said the Greek amphitheatre of Taormina was one of the most beautiful things she ever saw. I wasn't sure what to expect, but I can agree that it's a must on any Europe bucket list.
Explore the Old Town of Taormina
After the sun goes down make your way around the old town of Taormina. It's a super cute historical town with beautiful streets to meander through.
You're sure to find an excellent restaurant for dinner. Alternatively, you could join a pizza making class and create your own culinary delight.
Click here to book a pizza making class in Catania!
Where to stay in Taormina
In Taormina we stayed at Hotel Villino Gallodoro and loved it. This cute boutique hotel has spacious rooms and gorgeous sea views.
Click here to see the latest prices and availability at Hotel Villino Gallodoro in Taormina!
Day 3: Explore the Gole di Alcantara & Siracusa
On the third day of your trip to Sicily, it's time for some more adventure.
Go body rafting in the Gole Di Alcantara
Enjoy a morning visit to the Gole di Alcantara. You can enter the natural park and walk around the top and base of the gorge, admiring the views.
If you're feeling adventurous, you should definitely try body rafting down the gorges. We paid 30 EUR for a 2-hour body rafting excursion and absolutely loved it.
You will start the excursion by hiking your way upriver through the gorges, with the occasional dive and swim. Once you reach the top, you will the river water take you downriver through lava rock formations, rapids and waterfalls.
It's super fun, and the best way to see the gorge from the inside.
Explore Siracusa & the Island of Ortigia
Once you've changed into dry clothes get back in your car, and take a scenic afternoon drive to Siracusa for about an hour and a half.
Once in the city, you can admire the Cathedral of Siracusa before making your way around the Island of Ortigia.
This little island is very cute and has some pretty beaches if you want to spend your afternoon on the sand. Or you can join a guided walking tour that explores all the top sights.
If you would prefer to do some exploring, there are tons to see on the Island of Ortigia. The Temple of Apollo is an important ancient Greek monument, and the Fountain of Diana is truly beautiful.
This is a town where you can really just wander about, and come across so much beauty.
Click here to book a Siracusa highlights walking tour!
Where to stay in Siracusa
In Siracusa we stayed at Hotel Populus. It wasn't a particularly fancy hotel, but the staff was friendly, the rooms were clean and it was in a nice central location, just a 10 minute walk away from Ortigia Island.
Click here to see prices and availability at Hotel Populus in Siracusa!
Day 4: Visit the Laghetti di Cavagrande, Marzamemi and Noto
Don't pack away your swimsuit just yet (though maybe it should live at the top of your things while in Sicily), because you'll be spending plenty more time in the water today.
Hike to the Laghetti di Cavagrande
In the morning, take a hike in Cavagrande, a protected nature reserve. At the summit you will find a parking area and cafe which serves huge sandwiches. It's a good spot to stock up on drinks and snacks before your hike.
From here you can enjoy the views over Cavagrande, which are in itself pretty breathtaking, and decide whether you want to venture on a hike.
The trail is officially closed, with a locked gate and sign next to it advising people not to go down to the lakes.
That said there are also boxes placed on both sides of the gate to make it easier to climb over it. In true Italian style, very few people turn away just because of a sign and closed gate.
The hike starts at the top of the gorge, meaning you have epic views all throughout the hike. The trail is fairly well marked, although there are sections where it's very rocky.
We saw people hiking down in sandals, however I would highly discourage it. Make sure to wear trainers!
Once you reach the bottom you will find beautiful emerald lakes that you can swim in, with little waterfalls pouring into them.
The water is quite cool, but just what you need after the hike down. I loved swimming in these lakes, looking up at the steep sides of the gorges towering above us.
It reminded me of the swims I did in the wadis in Oman. The hike took us 45 minutes on the way down, and 1 hour on the way back up.
However you should factor in some chilling time by the lakes, to fully enjoy the experience. Overall we stayed there for around 3 hours.
Wander around the streets of Marzamemi
Whether you have lunch at the lakes or the café at the summit, make sure to hit the road again fairly early. During the afternoon drive south towards Marzamemi.
There are some beautiful beaches on the way in the Vendicari Oasis if you want to spend a little time relaxing after your hike.
But be sure to leave some time to check out Marzamemi, a southern Italian hamlet which has a very cute old town.
You can get gelato (or traditional Sicilian granita) and wander down the narrow streets for the perfect Italian village experience.
Visit the Old Town centre & churches of Noto
In the afternoon, drive to Noto, a stunning old town with lots of Baroque churches. The Noto Cathedral, a UNESCO World Heritage Site, is stunning and has a number of important religious artworks inside it.
From the top of the bell tower of St. Charles Church, which the cathedral is part of, you'll get an awesome view over the town. The steps are small and the staircase is narrow, so if you're claustrophobic, it might be a bit tight.
But if tight spaces aren't an issue, it's very much worth the climb. Particularly just before sunset, when you can watch golden hour wash over the city.
Where to stay in Noto
There are many nice apartments and hotels in Noto. However, if you want to try a really unique stay, I can highly recommend Masseria Usambrogia. This traditional Italian farm stay was one of the highlights of our trip.
They have lots of little stone built huts that act as rooms for their guests, with lots of outdoors seating and a huge garden to walk around. Our hosts were also lovely, and served us a delicious breakfast on the following day.
Click here to see the latest prices and availability at Masseria Usambrogia! (They have other huts besides the one I linked here – just ask them about it on AirBnb)
Day 5: Day Trip to Modica & Scicli and Sleep in Ragusa Ibla
After all the outdoors adventures of the previous days, it's time for a bit of culture and history. In day 5, you'll be doing more exploring of historic Italian towns and villages.
With a history like Italy's, it's easy to see the influence of time and cultures on the architecture. So, once again, strap on your walking shoes and a shady hat, because you're going exploring.
Visit Modica
Modica lies 40 minutes from Noto by car, so it's the first stop on today's itinerary.
Modica is a sandstone coloured city, with a number of monuments breaking the view. One such baroque architectural wonder is the Cathedral of St George.
If you get a chance to hear the organ play while the light streams in through the dome, it's quite spectacular. The view from the belltower is another similarly wonderful experience. You'll get sweeping views over the little town.
If you've wanted to try Italian fine dining, now's your chance. Locanda Don Serafino is a Michelin starred restaurant that is located within a cave. So, while the food and wine is absolutely excellent, the location really makes it special.
Of course, after a beautiful meal, there must be dessert. Modica is famous for its dark chocolate. If you want the full experience, visit the chocolate museum. Otherwise, just grab a slab or ten for the road.
Explore Scicli
Once you've eaten, take a 15-minute drive to Scicli. This is another beautiful town with Baroque churches, cobblestone streets and cute houses. It's a very scenic place to walk around and explore during your afternoon.
Scicli has the classic relaxed Italian vibe and lifestyle, and you'll likely see well-dressed men with hats and cigars outside little pubs and good restaurants.
The feel of the town is comfortable and authentic, which makes it very charming to explore by foot.
Wander around Ragusa Ibla
After Modica and Scicli, drive up to Ragusa. It's only a 30-minute drive, and you should be there by the late afternoon in order to do a little more wandering. Because Ragusa is a hilltop city, the panoramic views are insane.
As you drive from one hill to the other you will get sweeping views over the town and surrounding countryside.
It's unlike anything else I've ever seen. Ragusa Ibla is the historical old town centre of Ragusa, built on the main hill of the city.
Giardino Ibleo, a public park, is possibly the best viewpoint. But it's hard to choose with so many contending for the title.
Duomo di San Giorgio is also a beautiful place to visit. It's a grand church with paintings and stained-glass windows, so try to go inside if you get a chance. If not, it's still beautiful to admire against the setting sun.
Simply wandering around the streets of Ragusa Ibla feels like stepping back in time.
Where to stay in Ragusa
In Ragusa we stayed at a lovely AirBnb just minutes away from the main square of Ragusa Ibla. The architecture of the apartment was a bit weird, but it was clean, spacious and in a very central location.
Click here to book your AirBnb stay in Ragusa!
Day 6: Relax at Ragusa Marina, Visit Caltagirone and Back to Catania
As you leave Ragusa Ibla, the panoramic scenery will give you some more epic views over the town and surrounding hills.
You might be feeling a little down at this point, with the end of your vacation in sight, but you're sure to have lots of fun on this day of exploring.
Relax at Ragusa Marina
Conscious there's been a lot of adventure and history in this Sicily itinerary, but not much relaxing! If you want a bit of beach time, head to Ragusa Marina for a little sea and sand.
It's a classic white sandy beach, with a few palm trees lining the coast to break the horizon. It's not a particularly exciting beach, but the water is clear, warm and calm. Perfect to wake you up for a full day ahead.
I visited Sicily after spending a full summer in Sardinia, so I wasn't too bothered about going to a beach. However for those coming to Sicily looking for some sun, now is the time!
Sicily is in the south of Italy, and is blessed with warm weather almost all year round. While it might not quite be beach weather in January, it's still one of the best European winter sun destinations.
Break up your drive at Caltagirone
Stop in Caltagirone on your drive back to Catania to break up the drive. It's an hour and a half drive from Ragusa to Catania, so if you loved your first stop, you can keep going. But Caltagirone makes for a lovely break in the drive.
Caltagirone's main claim to fame is the Staircase of Santa María del Monte.
The long, world-renowned staircase is tiled with the ceramics that Caltagirone is also known for. And it leads to an incredible view if you can make it to the top.
If you want a few pretty things to remember your trip by, the ceramics here make for wonderful souvenirs.
Return to Catania
By the end of the day, it's best to get back to Catania, so that you're close to the airport and relatively ready to go. There's also lots to still see and do in Catania, so you won't be bored.
There are great restaurants for dinner as well, so get in a last bite of Italian food before you go home. After all, you might not make as many trips to Sicily as you'd like.
Day 7: Final Visits to Aci Castello, Acireale and Time to Leave
On your last day in Sicily, you'll want to fit in a few last authentic foods, experiences and sights. Depending on your departure time, you should be able to squeeze in a couple of wonderful things.
Explore Aci Castello
Since you've already been to Catania and you still have the car rental, drive to Aci Castello, which is just 20 minutes from the city. This interesting commune developed around a castle perched on the rocks by the sea.
For the Game of Thrones fans, it might remind you of Dragonstone (that's the impression I got anyway)!
The castle was built almost one thousand years ago. And with the water beside it, which has been there since its construction, it'll take you back in time.
This dramatic view is not all that the castle offers, since it's also home to an exhibition on past battles and sieges.
If at this point you might be feeling rather peckish. Pop into Caffè & Dolcezze Pastry Shop for a couple of tasty baked goods.
They focus on Sicilian flavours, so it's a great opportunity to try some local specialities. Their panzerotti, arancini and cassata are particularly wonderful.
Visit Acireale
If you still have a little time before your flight, drive down to Acireale. This coastal commune is located at the foot of Mount Etna and is extremely picturesque.
The local life is vibrant and the historical architecture is elegant and impressive.
The Cathedral of Acireale is a great central place to explore the town from. It's also a great last catholic church to add to your Sicilian sights.
The inside is not that impressive, so you can simply admire it from the outside before wandering the streets until it's time to catch your flight.
Final Thoughts on Your 1 Week Vacation in Sicily
Sicily is really something else. It has a gorgeous Mediterranean climate, a history that stretches back across millennia, and an interesting contemporary culture mixed into the bargain.
All of these characteristics make for a fascinating vacation destination.
Throw in a couple of beaches, many gelato's, fresh seafood and a good playlist for your road-tripping, and it doesn't get any better than this.
Armed with this Sicily itinerary, you're sure to catch all the best sights and tastes of the island. If your Sicily trip is nearly as memorable as mine, you'll want to go back again and again!
I'm almost embarrassed to admit I had never contemplated a Sicily trip before this year. I knew it was there, I knew lots of people loved it, but I had never thought of adding it to my travel bucket list or Italy itinerary.
I'm very glad I got to spend one week in Sicily this year, and I hope hello this post inspires you to do the same! I hope you find my Sicily 7-day itinerary useful in planning your own Sicily trip.
If you have any questions just let me know in the comments below!
If you're looking for more Italy travel advice, check out these guides:
Enjoyed reading my 7 days in Sicily itinerary? Pin it!