It's no secret that I love travel quotes. Whether it's a funny pun or an inspirational quote from a cool travel movie that makes me want to pack my bags, I love reading epic travel quotes.
They always give me something to think about, and they fuel my constant wanderlust.
Recently I've been debating whether to go on a solo trip or not, and I found myself looking for quotes about solo travel to help inspire and sway my decision.
In this article I decided to put together all the coolest solo travel quotes that I found, in the hope that you will also find them inspirational. They definitely did make me feel like I was ready to go on my first solo trip!
I couldn't help but pair these awesome solo travel quotes with epic travel photos, just to fuel your wanderlust that little bit more!
So without further ado, let's dive in and discover the best quotes about travelling solo!
Inspirational quotes about travelling alone
I simply had to start this article with inspirational quotes. These are the ones excite me the most, and genuinely get me to reflect on my life and travels.
Reading adventurous quotes is one of my favourite things to do at home when I'm not travelling, and I hope you'll love these ones as much as I do.
"The man who goes alone can start today; but he who travels with another must wait till that other is ready." – Henry David Thoreau
"The journey of life is amazingly beautiful if you take it as a fearless adventure." – Debasish Mridha
"Don't be scared to walk alone. Don't be scared to like it." – John Mayer
"If you make friends with yourself, you will never be alone." – Maxwell Maltz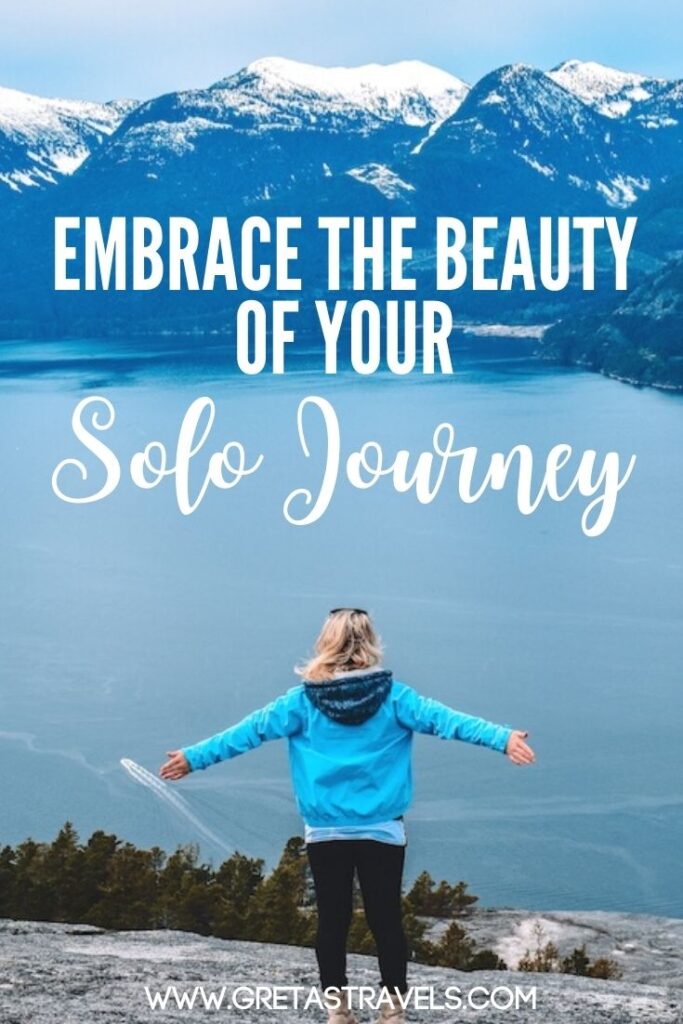 "The inner journey of travel is intensified by solitude." – Paul Theroux
"This is the journey of your life. Don't try to explain it to others, because only you can see it." – Nitin Namdeo
"It seemed an advantage to be traveling alone. Our responses to the world are crucially moulded by the company we keep, for we temper our curiosity to fit in with the expectations of others…Being closely observed by a companion can also inhibit our observation of others; then, too, we may become caught up in adjusting ourselves to the companion's questions and remarks, or feel the need to make ourselves seem more normal than is good for our curiosity." – Alain de Bottom
"Adventure can be an end in itself. Self-discovery is the secret ingredient." – Grace Lichtenstein –
"Climb the mountain so you can see the world, not so the world can see you." – David McCullough Jr.
"Solo travel not only pushes you out of your comfort zone, it also pushes you out of the zone of others' expectations." – Suzy Strutner
"Traveling alone will be the scariest, most liberating, life changing experience of your life. Try it at least once." – Unknown
"Loneliness adds beauty to life. It puts a special burn on sunsets and makes night air smell better." – Henry Rollins
"As you travel solo, being totally responsible for yourself, it's inevitable that you will discover just how capable you are!" – Unknown
Funny quotes about solo travel
After deep and inspirational quotes, it's only natural to want to balance that with a bit of fun. These funny solo travel quotes are perfect to lighten the mood.
"I am never happier than when I am alone in a foreign city; it is as if I had become invisible." – Storm Jameson
"It's a long ride home with nothing but me for company. I bore myself sometimes. Not often. Just now and again." – A.J. Hartley & David Hewson
"I wondered why it was that places are so much lovelier when one is alone." – Daphne Du Maurier
"Table for one, food for two, please." – Unknown
"You don't need magic to disappear, all you need is a destination and a great hostel" – Unknown
"A traveler should be happy, not perfect!" – Unknown
"One of the reasons I travel solo: I do not have to share all the delicious food!" – Unknown
"Travelling Solo will replace thousands of motivational books." – Hostelgeeks
Short travel alone quotes
Continuing the trend, here are the best short quotes! Long inspirational quotes are great, but if you're looking for something short and snappy these quotes are for you!
"To awaken quite alone in a strange town is one of the most pleasant sensations in the world." – Freya Stark
"Some journeys can be only travelled alone!" – Ken Poirot
"Travel doesn't become an adventure until you leave yourself behind." – Marty Rubin
"The best trip is the journey you take in finding yourself." – Angela Vallely
"Travel far enough, you meet yourself." – David Mitchell
"Traveling solo means getting to know the real you." – Unknown
"Not I, nor anyone else, can travel that road for you. You must travel it for yourself." – Walt Whitman
"I think one travels more usefully when they travel alone, because they reflect more." – Thomas Jefferson
"When the traveller goes alone he gets acquainted by himself." – Liberty Hyde Bailey
Solo journey quotes that are perfect for Instagram
I know what you're thinking. If you go on a solo trip and don't share a photo of it, did it really happen?
And you don't want to caption your epic travel memories with just any cheesy quote, you want an epic travel caption to go with it.
These quotes about solo travel are perfect as captions for any photo, whether it's of you surfing in Bali, hiking in New Zealand or exploring European cities.
"You are the one that possesses the keys to your being. You carry the passport to your own happiness." – Diane von Furstenberg
"Life begins at the end of your comfort zone." – Neale Donald Walsch
"Traveling solo does not mean you're alone. Most often, you meet marvellous people along the way and make connections that last a lifetime." – Jacqueline Boone
"If you are waiting for someone to travel with you, you may end up waiting a lifetime." – Unknown
Solo female travel quotes
As a female traveller, I wanted to have a separate section on quotes about solo female travellers.
"Good girls go to heaven, bad girls go everywhere." – Mae West
"Looking in the mirror, I saw a joyful face. And this happy girl was just about to go on a trip, with a one-way ticket in her bag. Life was a never ending journey." – Nico J. Genes
"The woman who follows the crowd will usually go no further than the crowd. The woman who walks alone is likely to find herself in places no one has ever been before." – Albert Einstein
"The question isn't who is going to let me; it's who is going to stop me." – Ayn Rand
"Never did the world make a queen of a girl who hides in houses and dreams without travelling." – Unknown
Epic quotes for solo travellers
I know we've had a section on inspirational quotes already, but I thought these epic quotes deserved a section just for them.
Some are inspiring, some are funny, some are romantic but all of them will make you want to set off on a solo adventure.
"Loving life is easy when you are abroad. When no one knows you and you hold your life in your hands all alone, you are more master of yourself than at any other time." – Hanna Arendt
"There are some places in life where you can only go alone. Embrace the beauty of your solo journey." – Mandy Hale
"We travel, some of us forever, to seek other states, other lives, other souls." – Anais Nin
"Everywhere you go, you shall find dramatic splendour and awe because your majestic soul is part of the vivid whole, and nothing about you is ignoble." – Kilroy J. Oldster
"I have travelled many roads in my life. Some were imbued with pain and I needed to avert my gaze. Others were so beautiful that I would have remained there forever. But always, at some point in these routes, I reached a place where I encountered myself." – Pablo Holmberg
"You never really travel alone, the world is full of friends waiting to get to know you." – Unknown – This one is also one of my favourite friendship and travel quotes!
"I learned my strengths and my weaknesses. I experienced the exhilaration of the ups and the despairs of the lows and most of the feelings in between… I learned courage and I learned it myself" – Ann Stirk
Final thoughts on the best quotes about solo travel
There you have it, the ultimate compilation of awesome quotes about solo travel! Are there other solo travel quotes that you think should feature on this list? Let me know in the comments below!
Whether you're looking for solo travel quotes to help you find the courage to set off on a solo trip, or if you're looking for the perfect caption for your solo trip photos, I hope this post helps you!
If you're looking for more quote inspiration, check out this compilation of my favourite quotes about the beach.
Enjoyed reading the best solo travel quotes? Pin it!