If you've read my blog before, you know just how much I love hiking. I also have a soft spot for deep life quotes, especially when you pair them with epic photos and they create inspiring messages.
So I couldn't help but put together a compilation of all the best hiking and trekking quotes out there. In this article you will find over 70 inspiring quotes about hiking, mountains and adventure.
I grouped them into types of hiking quotes, so that you can easily find the perfect quote for your needs.
Whether you're searching for an inspiring trekking quote to convince you to head off on your next adventure, or if you're looking for a funny hiking quote to use as Instagram caption, I'm sure you'll find the quote you need here!
So without further ado, read on and start getting inspired by these epic hiking quotes!
My personal favourite trekking quotes
I thought I'd start this compilation of the best trekking quotes with my personal favourites. These are the quotes that, when I read them, inspire me to get out of the house and hike up a mountain.
I love them also because there is more to them than just a sentence about the mountains. Like many great travel quotes, they will make you reflect on other aspects of your life, and push you to do more.
1. "Because in the end, you won't remember the time you spent working in an office or mowing the lawn. Climb that goddamn mountain." – Jack Kerouac
This is one of my absolute favourites. It was one of the mantras I used to repeat to myself when I was quitting my 9-5 job to travel the world and blog about it.
It's a quote about hiking, but also about making the most of your life.
2. "Somewhere between the bottom of the climb and the summit is the answer to the mystery why we climb." – Greg Child
3. "There are no shortcuts to any place worth going."– Beverly Sills
I love both these quotes because they are both so true. You have to trust the process and trust the climb. There will be no shortcuts to take you where you really want to go, and the climb itself is part of the process to get you there.
4. "Thousands of tired, nerve-shaken, over-civilized people are beginning to find out that going to the mountains is going home; that wildness is a necessity." – John Muir
This one hits home particularly hard after the events of 2020. After spending so much time at home, we are all rediscovering the beauty of being outdoors and of enjoying the view from the top of a mountain.
5. "I'd rather be hiking in the rain, than sitting inside at a desk on a sunny day." – Unknown
When you live in London, this one is especially true!
6. "Climb mountains, not so the world can see you, but so you can see the world" – David McCullough Jr
This quote resonated with me a lot, especially on a more metaphorical level. We often search for validation from our peers, but the only validation you should seek is from yourself and your experiences.
It's not just about climbing mountains. Whatever you do in life, make sure you do it to be a better version of yourself, to learn something new or push yourself, not just because you want others to see you.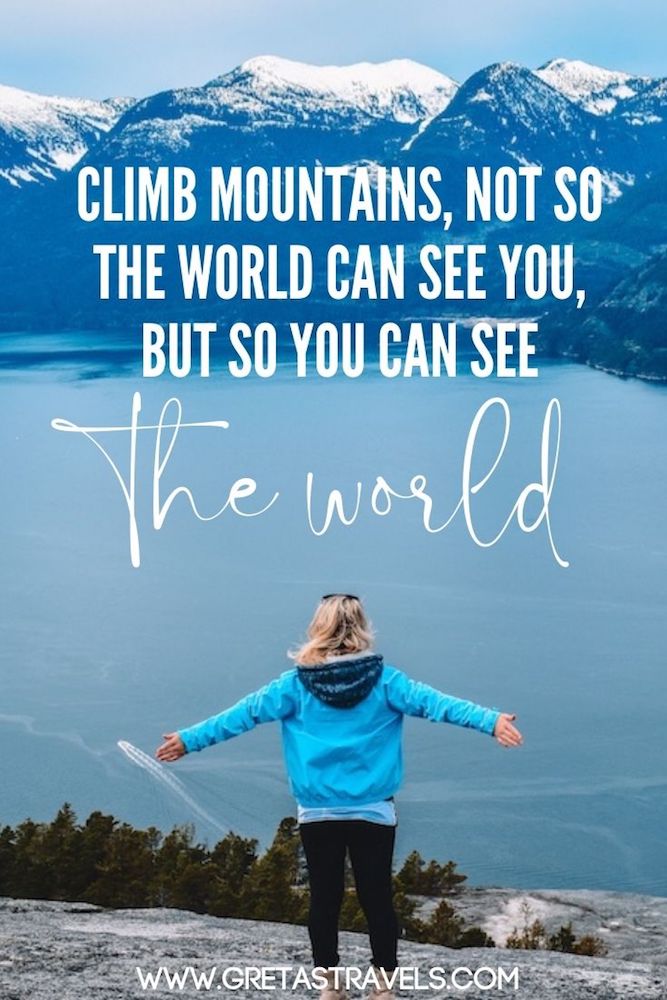 Inspirational hiking quotes
If you're looking for quotes that will inspire you to get out, climb a mountain and improve your life, here they are.
7. "Hiking is not escapism; it's realism. The people who choose to spend time outdoors are not running away from anything; we are returning to where we belong" – Jennifer Pharr Davis
I often think the same applies also to travel. You'll often hear that people who travel a lot are running away from something, what if we're actually running towards something? Towards an extraordinary life?
This inspiring trekking quote is a reminder that just because you're stepping outside the conventional box, doesn't mean you're crazy.I have actually learnt many useful life lessons from travel.
8. "A journey of 1000 miles begins with a single step" – Lao Tzu
I love this quote because it's true both for hiking and for life. I often repeat it to myself when I'm on challenging hikes like Roy's Peak, or when I'm having doubts as a full-time travel blogger.
9. "Everyone wants to live on top of the mountain, but all the happiness and growth occurs while you are climbing it." – Andy Rooney
10. "Hiking is a bit like life: The journey only requires you to put one foot in front of the other…again and again and again. And if you allow yourself the opportunity to be present throughout the entirety of the trek, you will witness beauty every step of the way, not just at the summit." – Unknown
This is something I remind myself on every hike. Sometimes we're so focused on reaching the peak, on reaching our goals, that we forget to have fun and enjoy the view along the way.
I want to encourage you to take things slower on your next hike. Have your hiking essentials ready, and slowly make your way up the mountain, takings breaks along the way to enjoy the view.
Don't forget to do this on a daily basis too!
11. "I see my path, but I don't know where it leads. Not knowing where I'm going is what inspires me to travel it." – Rosalia de Castro
12. "If you can find a path with no obstacles, it probably doesn't lead anywhere." – Frank A. Clark
13. "May your dreams be larger than mountains and may you have the courage to scale their summits" – Harley King
I love this last quote, as it reminds me that no dream or goal is big enough if you really believe in it.
Hiking quotes funny
After so many deep and inspirational quotes, I figured it was time for some funny hiking quotes!
14. "Never follow someone else's path unless you're in the woods and you're lost, and you see a path. By all means, you should follow that."– Ellen Degeneres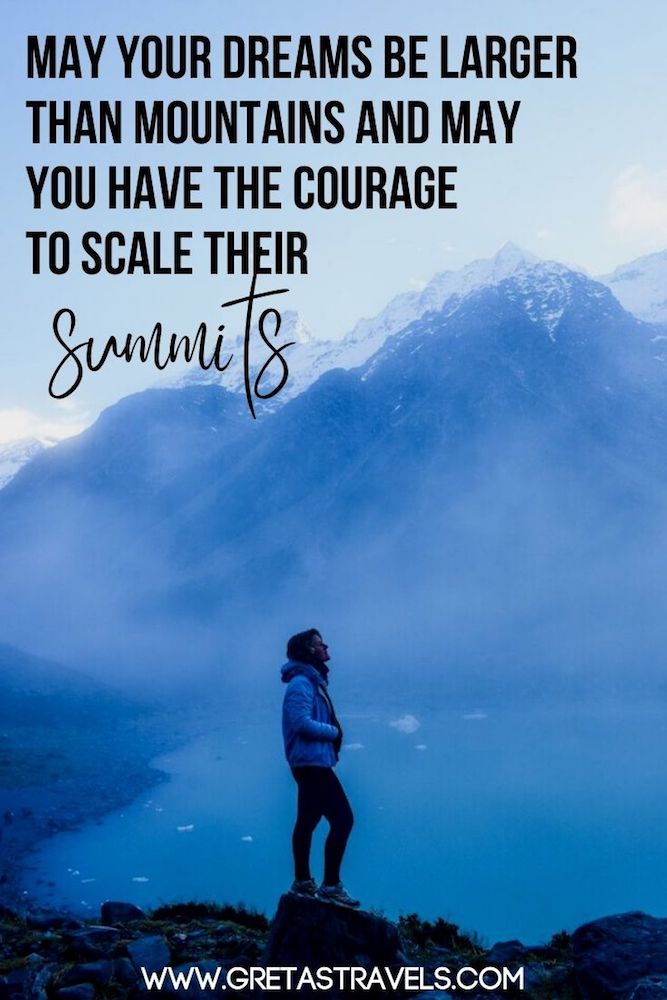 15. "Bring a compass. It's awkward when you have to eat your friends." – Unknown
16. "I might look like I am listening to you, but in my mind, I am hiking" – Unknown
I'm not the original author of this hiking quote, but I might as well be.
17. "Anywhere is 'within walking distance'." – Unknown
This is the exact reaction I had when my friends took me hiking in Vancouver, Canada. We hadn't even started hiking yet, and ended up walking for hours just to get to the trailhead, since my friends said it was "within walking distance".
Needless to say, once paired with the actual hike, we returned home pretty knackered.
18. "I like being near the top of a mountain. One can't get lost here." – Wislawa Szymborska
19. "I chose the road less travelled and now I don't know where I am." – Unknown
A funny spin on a classic adventure quote. When it comes to travel, especially travel books or movies, it's easy to focus on the epic life changing experiences, and forget that the funny and mundane events are what make it all worth it.
Funny hiking captions
More funny hiking quotes, which would work especially well as hiking Instagram captions!
20. "It's impossible to walk in the woods and be in a bad mood at the same time."– Unknown
I find this is very true for me! I tend to get in a bad mood when I'm hungry, but one short stop to refuel on water and sandwiches, and I'm good to go again!
21. "Camping is not a date; it's an endurance test. If you can survive camping with someone, you should marry them on the way home." — Yvonne Prinz
I took my boyfriend hiking in Tenerife and we even spent one night camping in Sardinia. We survived both experiences so maybe I should start looking at rings!
22. "Getting to the top is optional. Getting down is mandatory." – Ed Viesturs
23. "The closer you are to nature, the further you are from idiots." – Unknown
24. "You are as helpful as a blister on a hike." – Unknown
These last two quotes might be a bit harsh, but they are funny hiking quotes nonetheless.
25. "There is no such thing as bad weather, only inappropriate clothing." – Sir Rannulph Fiennes
26. "Always hike with someone in worse shape than you. The bears out there will know." – Unknown
This was a recurring joke during our Vancouver to Whistler road trip. Once I realised just how common bears are in Canada, I was glad to be amongst the fittest hikers in our group.
Short hiking quotes
Because we don't always want long inspirational quotes, sometimes all we needy is a short and snappy sentence.
27. "The best views come after the hardest climb" – Unknown
28. "Leave the road, take the trails."– Pythagoras
29. "Only one who wanders finds a new path." – Unknown
30. "To walk in nature is to witness a thousand miracles" – Marie Davis
31. "Embrace the detours." – Kevin Charbonneau
32. "An early morning walk is a blessing for the whole day."– Henry David Thoreau
33. "I could never resist the call of the trail." – Buffalo Bill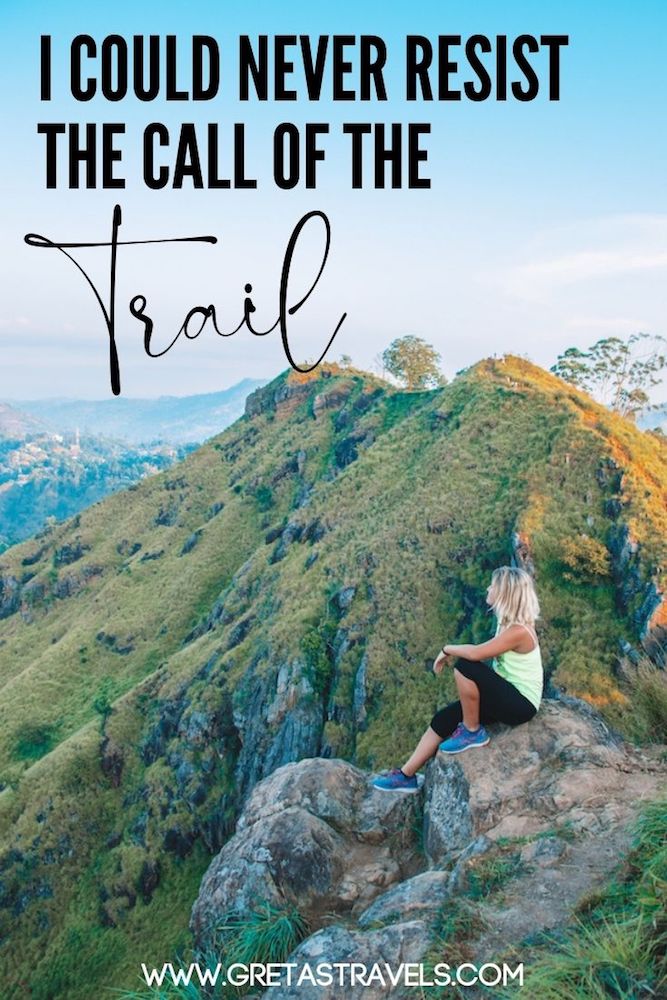 Mountain hiking quotes
I've been on some cool hikes in beach destinations (like Le Morne Brabant in Mauritius), but there's no denying that you'll find the best hikes in the mountains.
These quotes are specifically about hiking in the mountains. The thrill of reaching the peak of a mountain, the beauty of snowy mountain peaks and the peace that comes with being in nature.
34. "For those who climb, the answer is both obvious and impossible to explain — the everyday concerns of livelihood, of social standing, overdue bills, and futureless romance all fall away before the vast and overwhelming absolute of the mountain." – Paul Watkins
I couldn't agree more with this quote. I know I have often felt like that, especially when hiking in Trentino in Italy (btw, did you know there are lots of great quotes about Italy?), or at Lake Tekapo in New Zealand.
35. "The hardest mountain to climb is the one within."– J. Lynn
36. "It's not the mountain we conquer, but ourselves."– Sir Edmund Hillary
I love how these two quotes use mountains to metaphorically represent our challenges.
37. "The mountains are calling and I must go." – John Muir
This quote may be short and simple, but it's always going to be one of my favourites!
38. "You're off to great places, today is your day. Your mountain is waiting, so get on your way." – Dr Seuss
39. "May your trails be crooked, winding, lonesome, dangerous, leading to the most amazing views. May your mountains rise into and above the clouds."– Edward Abbey
40. "Mountains are not stadiums where I satisfy my ambition to achieve, they are the cathedrals where I practice my religion." – Anatoli Boukreev
41. "Mountains have a way of dealing with overconfidence." – Hermann Buhl
I find this is true of nature and sports with an active nature element. I found the same when surfing in Costa Rica or Tenerife. The mountains and the waves are ultimately in charge, and as humans we need to respect them.
Hiking quotes for Instagram captions
I know exactly what position you're in. You have all the photos and videos of your last hike edited and ready to be posted, but you're struggling to put together the perfect travel Instagram caption.
Worry not, because this section of my trekking quotes article is entirely dedicated to the best hiking captions! From funny to inspirational, these snappy quotes are the ones that will fit perfectly on any Instagram post.
42. "Hiking is my cardio." – Unknown
43. "Life is better in hiking boots." – Unknown
I might have used this quote one too many times, but it never gets old. I often use the variation "in a swimsuit" for my beach captions and photos.
44. "We don't stop hiking because we grow old — we grow old because we stop hiking" – Finis Mitchell
45. "Hiking is the answer. Who cares what the question is." – Unknown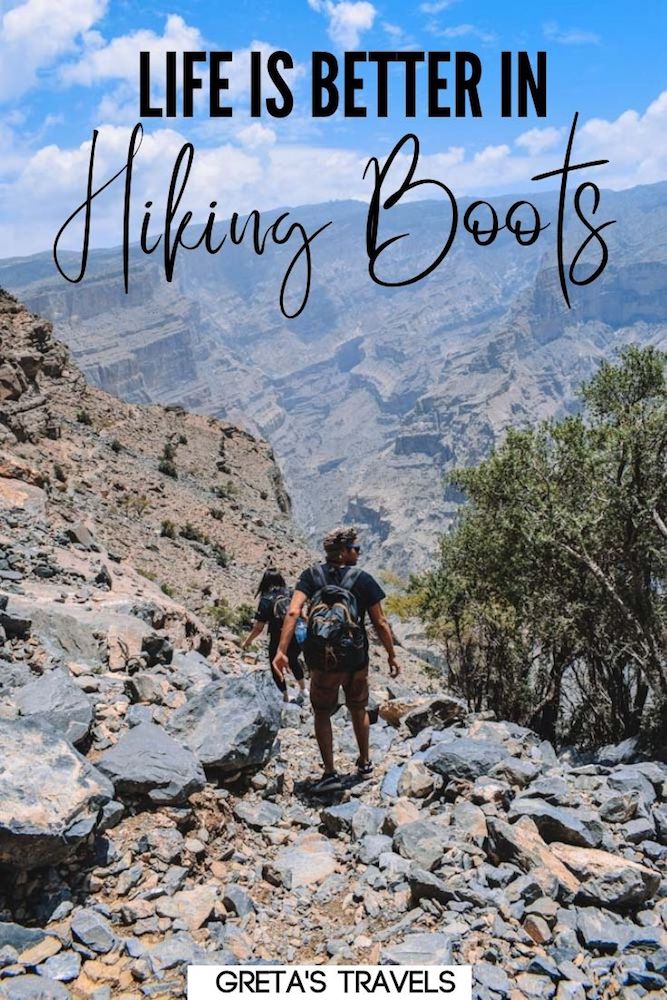 46. "Hiking side effects include sweating, euphoria and general awesomeness." – Unknown
After spending 7 days in New Zealand, confronting epic New Zealand hikes on a daily basis, this is how I felt, and you can be pretty sure that's how I captioned almost all my photos.
47. "Of all the paths you take in life, make sure a few of them are dirt."– John Muir
48. "Hiking and happiness go hand in hand or foot in boot."– Diane Spicer
49. "You need special shoes for hiking – and a bit of a special soul as well."– Terri Guillemets
50. "We live in a fast-paced society. Walking slows us down."– Robert Sweetgall
51. "It's easier to go down a hill than up it but the view is much better at the top."– Henry Ward Beecher
Hiking with friends quotes
If you're looking for the right trekking quote to send to your mates, maybe to convince them to come hiking with you, these are perfect for you!
52. "Happiness is hiking with friends." – Unknown
I told my friends this to convince them to hike Hooker Vallery Track with me, and I'm proud to say it worked.
53. "We are all travelers in the wilderness of the world and the best we can find in our travels is an honest friend." – Robert Louis Stevenson
54. "It's not how many miles you walk, it's how many smiles you share." – Unknown
55. "In life, it's not where you go, it's who you travel with." – Charles Schulz
This is also one of my favourite quotes about travelling with friends. With the right company, every experience or hike can become even more thrilling.
Quotes about hiking and nature
We've already had quotes about mountain hiking, but what about nature? These hiking quotes are specifically about being in nature and the woods.
56. "Look deep into nature and you will understand everything better." – Albert Einstein
57. "Nature is not a place to visit. It is home." – Gary Snyder
58. "I found far more answers in the woods than I ever did in the city." – Mary Davis
59. "Adopt the pace of nature: her secret is patience." – Ralph Waldo Emerson
Given the chaotic nature of modern city life, I find this a good daily reminder. Hiking and being in nature often helps me feel more centred and calm.
60. "Hiking is not for everyone. Notice the wilderness is mostly empty." – Sonja Yoerg
This quote features also in my compilation of epic solo travel quotes, read them here!
61. "There is always an adventure waiting in the woods."– Katelyn S. Bolds
62. "I took a walk in the woods and came out taller than trees."– Henry David Thoreau
63. "I slow down when hiking. The rhythm of nature is more leisurely. The sun comes up, it moves across the sky, and you begin to synchronize to that rhythm." – John Mackey
64. "And into the forest I go, to lose my mind and find my soul." – Unknown
Hiking quotes to make you think
I figured I would close this section with quotes about trekking to make you think. They're not necessarily inspirational or funny, but they will make you think beyond the literal connotations of the hike.
65. "When everything feels like an uphill struggle, think about the view from the top." – Unknown
This is very true both on a challenging hike and during challenging life periods. Always remember to keep going, you will reach that peak above the clouds eventually.
66. "If you are seeking creative ideas, go out walking. Angels whisper to a man when he goes for a walk." – Raymond Inmon
67. "Do not follow where the path may lead. Go instead where there is no path and leave a trail."– Ralph Waldo Emerson
Another hiking quote that is meant both literally and metaphorically. On a real-life level I found this to be the case when hiking Ella Rock in Sri Lanka. If we hadn't gone off the track a bit, we would have never found it!
68. "Go out, go out I beg of you And taste the beauty of the child. Behold the miracle of the earth with all the wonder of a child." – Edna Jaques
69. "We must get beyond textbooks, go out into bypaths and untrodden depths of the wilderness of truth and explore and tell the world of our glorious journey" – John Hope
I find this is especially true when travelling. I believe there are many bucket list experiences that we should all live, but there are also many gorgeous off the beaten path destinations waiting to be discovered.
70. "A path is a prior interpretation of the best way to traverse a landscape."– Rebecca Solnit
Final thoughts on the best trekking quotes & trekking captions for Instagram
There you have it, the ultimate compilation of hiking Instagram captions, trekking quotes and inspiring mountain quotes!
Do you know other hiking quotes that you think should feature in this article? Let me know in the comments below! I'd love to include them to this compilation.
I hope you will find these hiking quotes useful, and that they will motivate you to get out there and hike a mountain (both figuratively and metaphorically)!
Enjoyed reading the best hiking captions for Instagram? Pin it!